Pictured at the Dyslexia seminar (from left): Michelle Kinsella, Dyslexia Association of Ireland; Helen Downes, CEO, Shannon Chamber; Connor Flanagan, CEO, Atlantic Aviation Group; and Helen McQuillan, EmployAbility Clare. Photo: Eamon Ward.
Fear of discrimination and lack of understanding from the employer or fear of negative response or misunderstanding from colleagues can often prevent people disclosing they have dyslexia, yet many successful business people have scaled to great heights in their careers despite being dyslexic.
This was so eloquently illustrated by Atlantic Aviation's CEO, Connor Flanagan, when he shared his personal story with attendees at a dyslexia-focused event held last week in Shannon, organised by Shannon Chamber in conjunction with EmployAbility Clare and Limerick.
Despite failing his Leaving Cert twice and being told he would achieve nothing in life, Flanagan has successfully transitioned from his initial job as a warehouse assistant to completing an instrumentation apprenticeship and acquiring an MBA with flying colours to now running several companies, only realising he was dyslexic in the more recent past.
"While it is sometimes difficult to get information off the page, you develop a system for learning and, while it might take longer, you get there in the end," he told his enthralled audience, who applauded him for his forthrightness and the encouragement he gave to anyone with dyslexia to never give up.
In what was described as an extremely enlightening event, with presentations from Michelle Kinsella, support and development officer for adult services with the Dyslexia Association of Ireland and special education teacher Fíona de Buitléir, the main takeaway from the seminar was that while they may have similar struggles, no two people with dyslexia have the same profile.
Outlining some manifestations of dyslexia including a delay in finding the right word quickly when needed; naming an object or experience accurately; relating to symbols that appear on a page with the word known in the head; poor organisation of work and difficulty following instruction, Michelle Kinsella said that while it may take longer to process information, dyslexic people find their own way around the problem.
"Dyslexia can be extremely good for business," she advised suggesting that, in the workplace, colleagues should remember to keep sentences and paragraphs short; use wide margins and headings; use 1.5 or double line spacing; use bold print to highlight, as Italics and underline can blur text for the reader; use highlighting and text boxes for important information; use bullet points and numbers rather than long passages of prose; keep text left justified with a ragged right edge, and limit the use of hyphens.
"There is also an increasing range of technology supports on the market to assist those with dyslexia to assimilate into the workplace. Apps such as Optical Character Recognition (OCR), text grabber, mind maps, WordTalk and dictation.io, can make the work so much easier," she advised.
It was obvious that special education teacher Fíona de Buitléir, who has been working exclusively with bright students (aged 10-13 years) with severe dyslexia since 2000, loves her job. She spoke about the two main types of dyslexia, phonological dyslexia and visual dyslexia and stated that while most people will be predominantly one or the other they will have a bit of both.
"Phonological dyslexia is the ability to see or hear a word, break it down to discrete sounds, and then associate each sound with letter/s that make up the word. Visual dyslexia involves motion, where letters appear missing at the beginning or end or middle of words or parts of letters may appear to be missing in a horizontal manner such as all letters missing their top, middle or bottom," she said.
Presenting a book entitled 'Dyslexic Brains Learn Differently', written by her students to showcase their personal coping mechanisms, she added: "Those who have dyslexia are stronger than we know; they daily fight the battles that most will never know."
A new print-run of the book will shortly be available from Ennis Book Shop or www.wowwee.ie.
Commenting on the benefits of hosting an event of this nature, Shannon Chamber chief executive Helen Downes added: "We wanted employers to talk openly about dyslexia, to make it more visible and celebrate employees who, despite being dyslexic are making a significant contribution to and within their organisations.
"We wanted parents to be aware of the invaluable support now available to assist their children cope and progress and to understand that people with dyslexia develop listening skills that will enable them to achieve. With one in ten having dyslexia, it is a certainty that there are so many great achievers in our midst battling against the odds and making a difference.
"The Dyslexia Association of Ireland's website www.dyslexia.ie is a great reference site for employers, teachers and parents. Also, EmployAbility Clare www.employabilityclare.ie and EmployAbility Limerick www.employabilitylimerick.ie are on hand locally to assist those with dyslexia find employment," added Ms Downes.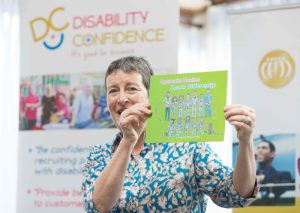 Special education teacher Fíona de Buitléir displays the book written by dyslexic students. Photo: Eamon Ward.