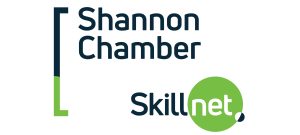 Through Shannon Chamber Skillnet, we deliver a suite of training programmes to meet the needs of:
Larger companies who have well-established training programmes yet require training for specific topics that can be delivered to small groups of employees in a short timeframe either in-house by Shannon Chamber trainers or at a Shannon Chamber training location.
SMEs, smaller companies and sole traders who may not have the budget to initiate in-house training programmes, yet require training to keep their knowledge base current.
We'd be delighted to discuss any aspect of your training needs and can speedily introduce a programme to provide the skills upgrade your staff requires.
Check www.shannonchamberskillnet.com for current training programmes.