CTM Travel (Corporate Travel Management)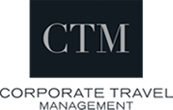 CTM Travel (Corporate Travel Management) is an independently owned travel management company, dedicated to the corporate sector. Established in 2000 with a team of 40 agents, we are headquartered in Cork with branch offices in Westport and The Shannon Free Zone.
For the past 18 years we have been providing travel solutions to both our local and global customers. CTM offers a full range of travel services designed to fit all levels of business travel requirements. We offer a personal approach by taking the time to get to know our clients, their brand and what they need from us, before providing a tailor-made solution that helps them achieve their business goals. We offer a number of booking channels (online & offline) all of which allows our clients complete visibility over employee spend while simultaneously providing duty of care fulfilment.