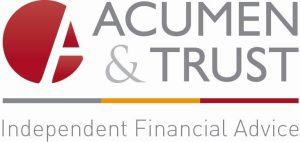 Acumen & Trust delivers financial advice to a nationwide client base from our headquarters in Sandyford, Dublin. We were established in response to a demand for truly independent financial advice in the Irish market. We achieve this by maintaining a dedicated research team and by developing processes to ensure that the recommendations we make are appropriate to the circumstances, needs and objectives of our clients.
At Acumen & Trust we strive to deliver excellence, professionalism and strategic solutions to Individuals, Employers, Executives, Trustees and Pension Plan members alike.
For personal clients, our robust advice process focuses on managing income and capital planning needs effectively to preserve and grow assets in a tax efficient manner. Corporate clients benefit from a range of specialised advisory and administration services, in relation to Employee Benefits packages including pension plans and investments.
Our mission is to build a sustainable financial advisory business which sets new performance standards in our industry, for an expanding, loyal client base. It is this ongoing excellence coupled with our vision that life would be better for all if people could plan their finances more effectively, so that they could look to the future with confidence and enjoy true peace of mind as a result; all this makes Acumen & Trust the ideal choice to look after your financial needs.