Pictured at the Mid-West Lean Network conference (from left): Claude Costelloe, network chair and general manager, Zimmer Biomet Ireland; Helen Downes, CEO, Shannon Chamber; Jean Francois Michel, account director, Three Business, conference headline sponsor; and Adrian Furey, vice president, Global Reconstruction, Supply Chain, Zimmer Biomet. Photo: Eamon Ward.
Virgin Media in Limerick, a major employer in the Shannon region, is the overall winner of the inaugural Mid-West Lean Network Continuous Improvement Award 2018, sponsored by LBS Partners. The announcement was made at the Network's annual conference held in the Analog Devices Building at the University of Limerick.
Virgin Media was one of four shortlisted companies (including Castlecabin, MicroSemi Ireland and DAA), who entered the Award, which was introduced to recognise the progress being made by companies in the Mid-West to embed Lean processes into their businesses and to encourage more companies to see the value and payback from becoming lean. The Award was aimed at companies who are starting their lean journey.
Virgin Media's project sought to introduce a system which would reduce the number of fraudulent handset orders and the associated loss of revenue. Each of the four shortlisted companies had to present their projects to a panel of expert judges, outline the support for the project, the process used and the benefits accruing to their organisation as a result of introducing the project. They also presented the project to attendees at the Mid-West Lean Network Conference.
Commenting on their win, Glen Winn from Virgin Media said: "I am delighted that Virgin Media are winners of the Inaugural Mid-West Lean Network Continuous Improvement Award. Virgin Media have truly embraced the Lean Six Sigma methodology and are delighted the results. Our winning project was one of many success stories that our team have delivered across our Irish and UK operations.
"It is fitting that the award was presented at the University of Limerick as 16 members of our team have either completed or are in the process of attaining their Lean Six Sigma qualifications through the University of Limerick programme. The Mid-West Lean Network has played a significant part of our journey, with events such as the Mid-West Lean Conference and a variety of company-hosted events; it has opened the door to a network of support and encouragement.
"Looking ahead into 2019, we will continue to invest in Continuous Improvement and are excited to be adding three operations management graduate positions to our Limerick facility. We will utilise Lean tools to support their development through our graduate programme."
Vincent Leonard, director, LBS Partners, award sponsor said: "Seeing the work that companies are doing in the area of Lean and Continuous Improvement is great. There are so many fantastic projects been undertaken, this is an opportunity to have them recognised and inspire others to start their Lean journeys. All the projects entered this year showed great returns for their respective companies and we were really impressed with the caliber of the shortlisted companies.
"We're delighted to be part of this great community where sharing the stories and Lean journeys is encouraged, allowing for everyone to learn together. The Mid-West Lean Network is a great platform for all involved and we're privileged to be working in the network with companies that want to grow and better themselves."
The Mid- West Lean Conference, sponsored by Three, and now in its second year, saw speakers from Ballina Beverages (Coca-Cola), UNICOM Engineering, Irish Rail, , Virgin Media, Microsemi Ireland, Organic Lens Manufacturing (Essilor Group) outline their experiences in introducing lean process into their organisations and changing mindsets to accommodate and accept change. Speakers from two organisations, Seachange Now and Resilience Matters, gave insightful presentations on overcoming resistance to Lean programmes and developing a resilient mind to reduce organisational stress.
Adrian Furey, vice president, global reconstruction supply chain with Zimmer Biomet, who was the keynote speaker, shared his experiences of introducing Lean and Continuous Improvement into the company's Warsaw Indiana plant, spread over 29 buildings covering 2,100,000 sq ft and with a direct labour team of 3,000 employees, during this three-year tenure in the United States prior to returning to Shannon in July 2018.
"I wanted to leave a legacy behind me and three-years was the ideal time-span in which to do that. Introducing Lean and Continuous Improvement enabled me to leave behind a team of people who now believe that what they do makes a difference to people's lives and are fully committed to doing the right thing to ensure that the plant is run efficiently and effectively. Employees in Indiana now take ownership of their work and pride in being part of the Zimmer Biomet worldwide team," he said.
Speaking after the event, Mid-West Lean Network chair Claude Costelloe, general manager, Zimmer Biomet Ireland said: "The purpose of the Network is to share best practice on Lean/Continuous Improvement and the annual conference is an opportunity to enhance that further. This was our second year and I was very encouraged by all the positive feedback we got from the attendees. We had an excellent array of speakers, covering the practical challenges of Lean deployment, change management and the phycology of overburden and stress in the workplace. With initiatives like this we can create a Center of Excellence on Continuous Improvement in the Mid-West."
Shannon Chamber CEO Helen Downes, who has seen the Network grow out of a concept which started over ten years ago at the first-ever Lean workshop held in Zimmer Biomet said: "The commitment of companies in this region to be the best in class is evident from the growing interest in Lean. As a Chamber, we are delighted to see the Mid-West Lean Network, which may have been started by the Chamber but now very much industry led, growing exponentially every year. The buy-in from companies throughout the region is amazing and the fact that speakers from throughout Ireland want to be part of our annual conference illustrates that the Network is one with substance. We look forward to even more success in the years ahead."
The Mid-West Lean Network Conference was supported by Three (headline sponsor); LBS Partners, Molex, DB Schenker and the University of Limerick (associated sponsors) and; IDA Ireland and Enterprise Ireland.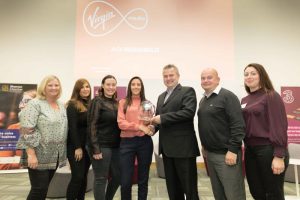 Vincent Leonard, director, LBS Partners (3rd from right) presents the Mid-West Lean Network Continuous Improvement Award 2018 to the Virgin Media team.
Photograph by Eamon Ward