Minister Harris pictured with (from left): Pat Quinlan, CEO, Milford Care Centre; Sr Mary Flanagan, Province Leader, Little Company of Mary; and Pat Gilmartin, Chairperson, Milford Care Centre Board. Pic: Don Moloney
The Minister for Health, Simon Harris TD, officially opened the new in-patient specialist palliative care facility and the re-developed Nursing Home at Milford Care Centre, Limerick, on Monday 5 November 2018.
The new Hospice, which serves Clare, Limerick and North Tipperary, contains 34 beds, all single room configuration, and four (4) overnight rooms for families, and involved an investment of over €12m, of which the Health Service Executive (HSE) funded €1.5m. The balance is being made from a variety of sources including voluntary fundraising, philanthropic support, Little Company of Mary, grants, and both corporate and private donations.
The newly refurbished nursing home, which is part of the Milford Care Centre complex, will, on completion at year end, see an increase in bed capacity in that facility from 47 beds to 69 beds, all single room configuration. This part of the project has been self-funded by Milford Care Centre (MCC) and supported by the Little Company of Mary (LCM).
Speaking in Limerick, Minister Harris said: "I am delighted to be here today at the opening of Milford Care Centre. The new hospice will better meet the needs of the changing model of palliative care, which is more community based. As more of us live longer, we need more palliative care services and we are meeting this demand, with expansion of bed capacity and introduction of single occupancy rooms where people's needs are looked after, and their dignity is respected. These are important aspects of palliative care, placing patients at the centre, and I am confident that the new hospice will result in an even better experience for patients and their families."
Welcoming the Minister to Limerick and acknowledging the contributions of the Hospice's many benefactors, Pat Gilmartin, Chairperson of Milford Care Centre Board said: "The delivery of this new Hospice was made possible by the generous help of many: the people of the Mid-West, the Little Company of Mary, the Health Service Executive, the JP McManus Foundation, corporate and private donors, including Ei Electronics, Cook Medical, the McAdam family, Maeve Mahony, the Donal Walsh Live Life Foundation, and other private donors."
Singling out the Little Company of Mary (LCM), whose financial contribution spans both the Hospice and the Nursing Home, he added: "As major funders of the nursing home and hospice, and founders of the original Hospice in 1928, LCM is at the heart and soul of the work of the Hospice; their ethos and philosophy of care underpins the work of the entire team at Milford."
Thanking those directly involved in the successful completion of the project, particularly management and staff for the inordinate amount of work undertaken at both the planning phase and in transferring to the new facility with minimal disruption, he added: "Our hope is that the new facilities will empower the team, at all levels, to meet the physical, emotional and spiritual needs of each individual patient we encounter. We are committed to providing services to the highest standards, all linked to our five core principles of justice, compassion, respect, communication and accountability."
Speaking on behalf of his team, Milford Care Centre chief executive Pat Quinlan said: "Today's official opening is the culmination of decades of dedication to providing palliative care in the Mid-West, from the Hospice's foundation in 1977 when there were only 9 hospice beds to today, where we have 34 beds and an add-on capability of 4 additional bedrooms.
"The driver for this new development is our objective of ensuring respect and dignity at all times for each individual patient and that we have extra bed capacity to meet growing demand. The move to an all single-room configuration in both the expanded Hospice and Nursing Home will ensure that we can achieve this aim going forward. We are also pleased to have the additional overnight accommodation for families in the Hospice as palliative care is about caring for the patient but also supporting the family.
"From a service perspective, we have witnessed a significant increase in activity levels since we moved into the new Hospice in February; bed occupancy year to date has increased from 83% in 2017 to 89% year to date in 2018. Given that the recommended national norm for average bed occupancy levels is 85%, and that only 30 of the 34 beds have been commissioned, these increased activity levels have warranted us seeking additional funding from the HSE to commission the final four beds on a phased-in basis in 2019.
"This is something that we hope will be given favourable consideration by the HSE for 2019 as such a development would make a major difference in our ongoing capacity to be able to meet patients' needs in a timely and responsive manner at a time when there is growing demand for our services"
Turning his attention to the future, Mr Quinlan added: "Our focus in 2019 will be on improving and expanding services available within our community bases in Ennis, Nenagh, Newcastlewest and Thurles so that they can provide enhanced clinical intervention for patients and families. In this regard, we are in discussion with the HSE on possible options for shared accommodation going forward and are also engaged with the HSE on the development, in 2019, of a new Joint Strategic Plan for Palliative Care in the Mid-West. All of the above is a clear indication of our commitment to partnering with the HSE in delivering high-quality care to our many service users at all times as we strongly believe that the people we serve deserve only the best of care."
The HSE has welcomed this latest development at Milford Care Centre, which will greatly enhance the quality of the care setting for people in need of specialist palliative care. The HSE has had a long association with Milford both at hospice and home care level.
Speaking ahead of the opening, HSE Mid West Chief Officer Bernard Gloster said: "This is a wonderful development which we are delighted to be associated with. It is testament to the well-deserved positive national reputation that Milford has as a provider of both inpatient and home-based palliative care."
The new Hospice at Milford Care Centre was constructed by Monami Construction Ltd. The Design Team, which included Punch Consulting Engineers, and Molloy's Quantity Surveyors, was led by Architect, Cathal Quinn, Quinn Architects and supported by Ger Maher, Project Manager. A number of additional consultants, including Peter Lavelle Fire Safety Consultants and Landscape Architect Ralph Wickham, were also involved in project delivery.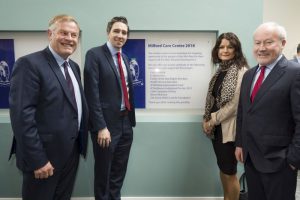 Minister Harris pictured with (from left): Pat Quinlan, CEO, Milford Care Centre; Helen Downes, CEO, Shannon Chamber; and Michael Guinee, Chairman, CEO and Founder. Ei Electronics. Pic: Don Moloney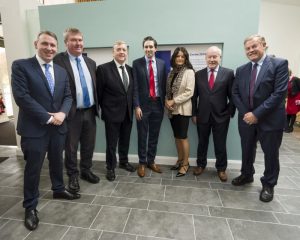 Minister Harris pictured with (from left): Senator Martin Conway; Joe Carey TD., Minister Pat Breen; Helen Downes, CEO, Shannon Chamber; Michael Guinee, Chairman, CEO and Founder. Ei Electronics; and Pat Quinlan, CEO, Milford Care Centre. Pic: Don MoloneyPic: Don Moloney