Pictured at the Shannon Chamber/Goodbody event in the Oakwood Hotel in Shannon (from left): Michael Tiernan, managing director, Tiernan Properties and founder and former CEO of e|net; Helen Downes, CEO, Shannon Chamber; Don Harrington, corporate finance director, Jon Ihle, head of communications and Catriona Coady, senior tax and pensions specialist, Goodbody and; Jimmy Martin, founder & CEO of Limerick-based AMCS. Photo: Eamon Ward.
Business owners attending a recent breakfast briefing in Shannon on the topic of starting, scaling up and exiting a business were given frank advice by a team of corporate finance and wealth management experts from Goodbody, joined by two local entrepreneurs, who openly shared their personal business journeys, including the pain points they have met along the way.
Jimmy Martin, founder & CEO of Limerick-based AMCS, employs 600 people developing software and technology for the waste, recycling and resource industries. Now generating revenues of €100m, his entrepreneurial drive started when, after ten years in US multinational Analog Devices, he left to set up what he described as a high-risk software business. Unable to raise finance from the mainstream banks, his start-up was self-funded with his first customer funding the initial product, which financed the company through its first year.
Now a very experienced and discerning leader, whose ambition has always been to develop an international business and who has learnt that building technology platforms needs a lot of investment, his company is now financed through a combination of external and personal investment.
"Scaling up a business requires a mx of investor types – short, medium and long-term; the challenge lies in giving them an exit option and structuring it appropriately. It also requires stamina and a model for acquiring businesses with a culture that is aligned to your existing business," he stated when interviewed by Don Harrington, corporate finance director with Goodbody.
With plans to scale up and transition to a less venture-capital structured company, retaining an Irish identity, he added: "The toughest challenge for an Irish tech company is trying to stay in Ireland. There is a lot of money chasing good technology companies but we are pretty focused on remaining an Irish headquartered company."
Founder and former CEO of e|net , and now back in the realm of property development, Michael Tiernan was equally forthright when outlining his career path from being a civil engineer in the County Council and an employee with Mr Binman to setting up own business to build the now well-established Arthur's Quay shopping centre in Limerick before going on to set up a number of community-driven ventures and telecoms company e|net.
"You never forget your first deal or the person who gives you your first break. People may find it hard to take you seriously when you start a business but once you have the right team in place, that bring credibility to the business, it gets easier. Also, you may not meet your targets at the beginning but once your investors are patient, they will help you grow the business," he added.
Tiernan's decision to exit e|net and revert to his core business was an easy decision given that there was a lot of consolidation in the telecommunications market and the company, even with a mix of shareholders, was too small in scale to compete.
His parting words to attendees was: "Spread the risk in your business. It is much more enjoyable and less lonely."
The Goodbody team of Don Harrington, corporate finance director, and Catriona Coady, senior tax and pensions specialist, said that many exit transactions are unplanned and often driven by the three Ds – Divorce, Death and Disease – so business owners need to be ready to contemplate a sale at any time.
"Unexpected catalysts can drive activity," said Harrington. "Housekeeping of all contracts and data is vital for speed to market, otherwise circumstances can overtake you. Prepare for the right opportunity so you can take advantage when it arrives."
Catriona Coady added: "The basic question we're always asking is 'Have you looked after yourself?'. Very often clients know about reliefs, but their businesses aren't structured tax efficiently – maybe they have dormant companies in their group structure or they own a residential property through the business. You want to be able to have extraction while you're involved in the business and exit in the most tax efficient manner."
Commenting on the value of an event of this nature for companies, Shannon Chamber CEO Helen Downes said: "This was our first time to link up with Goodbody and judging by the level of content delivered on the day and the feedback we have received from attendees, it has very evidentially triggered a deeper consideration by companies on how they manage their business affairs."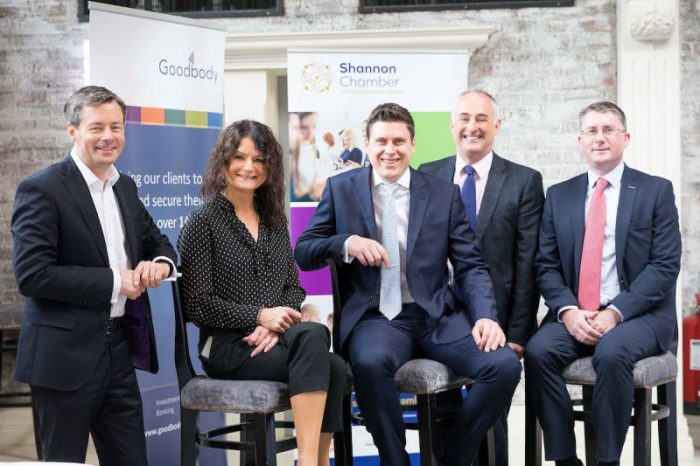 Helen Downes, CEO Shannon Chamber pictured with (from left):Don Harrington, corporate finance director, Goodbody Dublin and the Goodbody Galway team: Ian Reidy, T J Scully and Ross McEvoy. Photo: Eamon Ward.