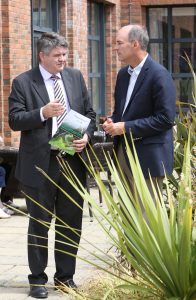 A leading international aviation figure has said that the diversity of the Shannon Group model is what other airports globally will need to look at if they are to drive forward in the years ahead.
Speaking at the American Association of Airport Executives (AAAE) and International Association of Airport Executives (IAAE) conference in Limerick, Chairman of the AAAE and Director of Tulsa International Airport, Oklahoma Jeff Mulder said that the fast changing aviation sector requires airports to be adaptable, diverse and innovative.
And he also predicted that community support funds for airports will become more prevalent in the years ahead.
"There has been a lot of change in the airport operating environment, particularly over the last ten years as we now operate in a completely global environment.  The business model needs to be about delivering low cost solutions to airlines and when that's the case you need to drive revenues and business streams elsewhere.
"Airports have to become more engaged in developing their business than they used to be; where once they were infrastructure only, runways and terminals, now they need to be much more.
"Shannon is a perfect example of this.  Probably of all the airports I have visited, it is the best example in terms of diversity of operations and innovation.  Everybody knows that Shannon is the birthplace of duty free, but also it is the site of the world's first Free Zone, it has its own property portfolio (Shannon Commercial Properties) and its own tourism product (Shannon Heritage); that's all very impressive. The airport is helping to drive the region rather than looking to the region to drive it," he said.
Over 50 executives from leading airports around the world flew into Ireland for the event, held today and yesterday at the Castletroy Park Hotel in Limerick.  The conference provides a networking forum for airports across the US and elsewhere in the world to share ideas and experiences.
Delegates were also engaged by a number of case studies on how airports, airlines and communities can work together, not least through development of community funds to support route development.  "Developing new services is a challenge for any airport," Mr Mulder continued.  "An airline is taking a risk when it tries to start a new route.  It is using an aircraft that could be deployed elsewhere, it is putting money into a market and really doesn't know how it is going to work.
"Any airline wants a level of risk mitigation and in the US a number of communities are taking this on themselves.  They are putting together a fund that acts as a support to the airline and sustains the service until it is up and running.
"This takes the risk out of it for the airline, the community gets a chance to prove the route and is definitely something we will see a lot more of in the future.  These funds are typically driven by business and tourism communities and I expect in the years ahead that those communities not doing this will not get the routes that those who are doing it will."