Pictured at the DIT graduation ceremony (front l-r): Miriam Magner-Flynn, Career Decisions: Dr John Murray, DIT; Helen Downes, CEO and Julie Dickerson, Shannon Chamber.
Back (l-r): Cillian Griffey, Shannon Chamber Skillnet; Jim Phelan, Ohshima; David Kelly and Paul Gavin, Zagg International; Brian O'Sullivan, Atlantic Aviation Group; Ted Hurley, Ohshima; Joe Martin, Atlantic Aviation Group; and Colin Hughes, DIT. Photo: Eamon Ward.
Eight senior executives from four Shannon companies were conferred with Diplomas in High Performance Leadership by the Dublin Institute of Technology (DIT) at a special graduation ceremony held in Dromoland Castle Hotel, organised by Shannon Chamber Skillnet.
The graduation was the first such conferring event organised by Shannon Chamber Skillnet since its establishment in 2015 and marked the completion of a year-long NFQ Level 8 Leadership programme, delivered by Career Decisions.
The graduation ceremony, conducted by Dr John Murray and Colin Hughes from the College of Business DIT, saw the MD of Ohshima and senior executives from Atlantic Aviation Group, Asystec, Zagg International and Ohshima, attain their accreditations following a course of study which included in-class and one-to-one coaching.
Congratulating the latest DIT graduates on their accomplishment, Dr Katrina Lawlor, Director and Dean, DIT College of Business said: "The provision of professional education is central to the mission of DIT and we take great pride in our work with adult learners. Lifelong learning is widely recognised as being vital for organisational and economic competitiveness. DIT extends a warm welcome to our newest graduates whose achievement is just one step in a process of continuous learning and self-development."
Shannon Chamber president Julie Dickerson, who was joined at the conferring ceremony by the Chamber's CEO, Helen Downes and Shannon Chamber Skillnet manager, Cillian Griffey added: "Juggling study and work is a huge challenge for anyone in business and I am glad that Shannon Chamber, as one of the few Chambers that successfully runs a Skillnet, can help members enhance their knowledge base and acquire new skill-sets.
"As a Chamber, we want to excel in providing a service that supports companies but also affords employees the opportunity to up-skill. It's important that we promote a culture of learning.
"The Diploma in High Performance Leadership, the first of its kind at NFQ Level 8 in Ireland, is an internationally recognised qualification and another first for Shannon. We are glad to have had the opportunity to work with Career Decisions to offer this course of study to our members," added Ms Dickerson.
Commenting on the value of a qualification of this nature for business, Career Decisions' managing director Miriam Magner-Flynn said: "In today's fast-paced business environment it has never been more important for senior leaders to perform at a high level and have the capability to lead their team to deliver exceptional results. A unique aspect of the programme is that it uses psychometric profiling to help managers understand their team members and to learn how best to manage, retain and motivate them. Career Decisions designed and delivered this Level 8 Diploma in High Performance Leadership in partnership with DIT to help managers develop the competencies and confidence to deliver on their organisation's ambitious goals."
Course participant and managing director of Shannon and Dublin-based Ohshima, Ted Hurley, speaking on his take-away from the course said: "The high performance leadership course gives students the essential tools for continuous development in progressive companies who aspire for high-end success. The real bonus of the course comes with understanding, communicating and networking with fellow participants who are experiencing the same issues and growth pains. The open forum aspect of the course gave us thorough problem-solving skills. We can now positively convert the theory to recognisable success.
"Great courses can't produce great people but can empower great people to make the right decisions," he added.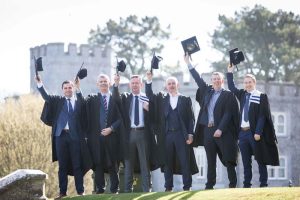 Shannon Chamber Skillnet's newly conferred DIT graduates celebrate their achievement (from left): Paul Gavin, Zagg International; Brian O'Sullivan, Atlantic Aviation Group; Ted Hurley and Jim Phelan, Ohshima; Joe Martin, Atlantic Aviation Group; and David Kelly, Zagg International. Photo: Eamon Ward.