Pictured at the apprenticeship evening in St Patrick's Comprehensive School, Shannon (from left): Helen Downes, CEO, Shannon Chamber; Fiona Donlan, Atlantic Aviation Group; Michael Collins, Molex; Sandra Gunning, Zimmer Biomet; Joe Leddin, Mid-West Regional Skills Forum; Stephen Linnane, Element Six, Emer Brohpy, Limerick and Clare Education & Training Board; Alan O'Brien, Modular Automation and Morgan Heaphy, principal, St Patrick's Comprehensive School, Shannon. Photo: Eamon Ward.
In a break from its norm, Shannon Chamber went back to school recently to host its first Apprenticeships' evening at St Patrick's Comprehensive School in Shannon. The purpose of the evening was to encourage students and their parents to embrace apprenticeships as a career route and to show that there is a way into work that suits students of all aptitudes.
Judging by the turnout of over 160, this was an event that touched the hearts and minds of all and the buzz in the auditorium after the presentations by the six participating companies pointed to a keen interest by attendees to find out more about the apprenticeship schemes run by Molex, Modular Automation, Element Six, Lufthansa Technik Shannon, Zimmer Biomet and Atlantic Aviation Group. The fact that most presentations were given by employees who had practical experience of being an apprentice added greatly to the value of the event.
Process engineering manager with Molex, Michael Collins' career saw him progress from toolmaker to supervisor to reliability engineering leader to his current position, so he was strong in his praise for apprenticeships. Options available through Molex in Shannon include apprenticeships in toolmaking, manufacturing automation and maintenance fitter, manufacturing technician and industrial electrical engineering.
Modular Automation operates a four-apprenticeship programme with a mix of on-the-job and classroom training. Since starting as an apprentice toolmaker in 2005, production manager Alan O'Brien's career has seen him move through project lead to team lead and ultimately to his current position. Modular's toolmaking and electrical apprenticeships offer hands-on experience of working in an exciting engineering environment.
As Alan explained: "An apprentice needs to have a good academic record, an interest in hands-on work and attention to detail. They must have a positive attitude, be flexible, be good communicators, like working on a team in a fast-paced environment and to deadlines."
Element Six's apprenticeship programme, which consists of a 2-year manufacturing technician programme and a 3-year manufacturing engineer programme, has been developed by the Irish Medtech Association along with Galway Mayo Institute of Technology and representatives from the medtec industry. Entry requirements are a Leaving Certificate (or equivalent), Grade 06 at ordinary level in five subjects, two of which must be maths and a language (English or Irish). Contracts for the 2018 class commence in October with the academic portion starting in January 2019.
Aircraft maintenance company Lufthansa Technik Shannon (LTS) operates a 24-month aircraft maintenance apprenticeship programme, which is a mix of theory, workshop and practical training. The comprehensiveness and quality of this programme is such that graduates have gone on to become CEOs, heads of production, VP technical, quality managers, airline pilots, lead engineers, technical instructors and aviation consultants.
Another aircraft maintenance company, Atlantic Aviation Group, has seen its apprentices crowned as Ireland Skills Champions and has won two of the last three world skills challenges. Its four-year apprenticeship programmes include two years' practical work in the hangar in Shannon and two years' theory carried out at its training institute in Shannon is association with the Dublin Institute of Technology (DIT). Its apprenticeship offering opens on 28 March with details available from www.atlanticaviation.ie
Leading innovator in musculoskeletal healthcare, Zimmer Biomet's apprenticeship programme resulted from a partnership between Limerick for Engineering and the local educational institutes. Having introduced the first industry-led manufacturing apprenticeship in Ireland, Zimmer currently has eight apprentices completing Level 6 manufacturing technical apprenticeships.
Summing up the value of an event of this nature for secondary level students, Shannon Chamber CEO said: "It shows the students and their parents that we have a great spread of companies here in this region offering amazing career opportunities, whether it be post school or post college. It's down to choice and which route best suits the student's aptitude. Our aim in organising this event was to get the conversation going about apprenticeships, to let the people who have 'walked the walk' do the talking and to show where their individual careers have taken them to."
As Mid-West Regional Skills Forum manager concluded: "Our key task is to transform the perception of apprenticeships. As education is changing to meet industry and learners' needs, this is beginning to happen and the number and profile of employers offering apprenticeships is expanding. The ambition of having 50,000 people in apprenticeships by 2020 is clearly attainable."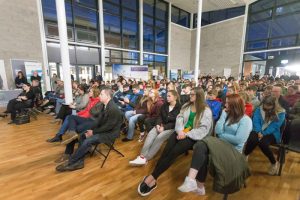 An attentive audience in St Patrick's Comprehensive School, Shannon. Photo: Eamon Ward.