Helen Downes, CEO, Shannon Chamber (centre) pictured at the Mid-West Lean Network conference with (from left): Paul Blahyj, Toyota Lean Manufacturing Centre; Heather Lowry, An Post; Martin Tierney, Seating Matters; Gavin Sheehan, Analog Devices and Network chair; Paula McDonnell, TTM Healthcare; Niamh Doherty, STERIS and Robert Hernan, Enterprise Ireland. Photo by Eamon Ward.
Lean practitioners from all over Ireland attended Shannon Chamber's Mid-West Lean Network Conference in Dromoland Castle Hotel last week where an impressive line-up of speakers shared their experiences of maintaining lean momentum in their organisations.
Speakers at this one-day event, organised by Shannon Chamber, sponsored by real-time data management specialist WrxFlo, and supported by Enterprise Ireland, included An Post's head of talent, diversity and organisation development, Heather Lowry; Limavady, Co. Derry-based Seating Matters' director, Martin Tierney; Niamh Doherty, director of lean with STERIS and CEO of Ennis headquartered TTM Healthcare, Paula McDonnell. The keynote address was given by Paul Blahyj, a group senior leader and lean manufacturing coach at the Toyota Lean Manufacturing Centre in Toyota Manufacturing UK.
Previously held at the Analog Devices Building in the University of Limerick, the conference, the sixth annual lean conference held since the network was set up in 2016, moved to the Co. Clare venue to inject a new dynamism into the day, which it most certainly did. The feedback from attendees is that it had 'something for everyone', from the operator on the floor to the manager striving for continuous improvement.
As well as keynote speakers, 11 projects featured in a street event, sponsored by LBS Partners. This event comprised an exhibition of display boards outlining how company-specific problems were solved using a technique called A3 storyboarding. The entries were split into two categories, small and medium-sized enterprises and larger Irish or multinational company with the winners selected by attendees using a live online voting system. Shannon-based Berka Solutions won the SME category and Element Six, the larger MNC category. Both winners received a crystal trophy, as well as visits to Toyota's Lean Manufacturing Centre, Seating Matters in Limavady and a half-day's consultancy with LBS Partners.
The main presentations on the day were multi-sectoral, which served to demonstrate that, contrary to popular belief, lean is as applicable and beneficial in a service environment as it is in manufacturing.
An Post's Heather Lowry showed how lean has helped the company transform its shared services activities through giving its leaders the tools and techniques needed to ignite efficiencies in their teams. It has injected greater clarity into the teams' daily workload, given them timely sight of problems before they become big issues, led to a reduction in the time spent on non-value-add tasks, and initiated the use of metrics to support decision making and change.
"It has empowered our teams to bring forward solutions and work collaboratively," she said.
Examples of wins at An Post's corporate centre, facilitated through lean, include the digitisation of 3,000 training records, 48% less purchase orders generated by procurement, a simplified graduate placement programme, streamlined parcel quotes for sales, and much more, all enabled by new ways of working at its new corporate headquarters.
In a fast-paced presentation, Seating Matters' Martin Tierney, whose company makes specialist and bespoke orthopaedic chairs, spoke about the transition from a position of carrying too much stock and losing key people to now being a much-expanded operation, winning design awards, through focusing on quality versus production and starting each day with a book club and new learning sessions.
"Fix what bugs you and grow your people," was one of his stark giveaways on the day when he likened a visit to Japan as a 'brain transplant', that gave him a new enthusiasm to change work practices in his company.
"Our principles today are centred on growing and developing exceptional people, creating a culture of continuous improvement, delivering remarkable customer service, developing industry leading products for patients and carers, fostering creativity in our workforce, setting exceptional standards and leading with clinical expertise."
STERIS' Niamh Doherty said that the introduction of lean tools and the development of staff through lean training has led the company to a workforce full of waste eliminators, problem solvers, communicators, and coaches.
Stating that change comes from people within the business, TTM Healthcare's Paula McDonnell said that, with a global footprint of 3,200 amazing people, working across Ireland, Northern Ireland, UK, Philippines, India and South Africa, lean has supported the company's growth.
She cited the benefits delivered as process optimisation, enhanced communication, data-driven decision making, improved customer satisfaction, reduced turnaround times, quality enhancement, and employee development.
"Operational excellence is the key to everything we do," she said.
Reviewing the event, Shannon Chamber CEO Helen Downes described the energy in the room as magnetic.
"Attendees were engrossed in the day right through to the final keynote presentation by Paul Blahyj, whom we were delighted to have with us on the day. With customers in 33 countries, and over 8,000 delegates from over 500 companies supported by Toyota's lean training, we are looking forward to enhancing the collaboration between Toyota and the Mid-West Lean Network.
As Paul said: "Maintaining lean momentum centres on having a structured business model and the correct culture with no taboos. This is done through developing people and companies' leaders in parallel. If, as leaders, we cannot show both mental and physical commitment to the business, we can't expect our people to. That's our goal as a network, to cultivate an ethos of continuous improvement in our enterprises. Our 2023 conference was certainly an additional step in this direction," commented Ms Downes.
The Mid-West Lean Network, an industry-led network, was set up by Shannon Chamber in 2016 to strengthen and increase the existing culture of lean within companies in Shannon and the wider Mid-West region. Membership, which is free, is open to companies of all sizes in all sectors. The network hosts an annual schedule of events which includes workshops and an end-of-year conference. Headline sponsor of the 2023 conference was WrxFlo. Associate sponsors included LBS Partners, TEKenable, Advanced Technical Concepts (ATC), Analog Devices, MacMarts, Indigo and Shannon Chamber Skillnet. The Network is supported by Enterprise Ireland and IDA Ireland.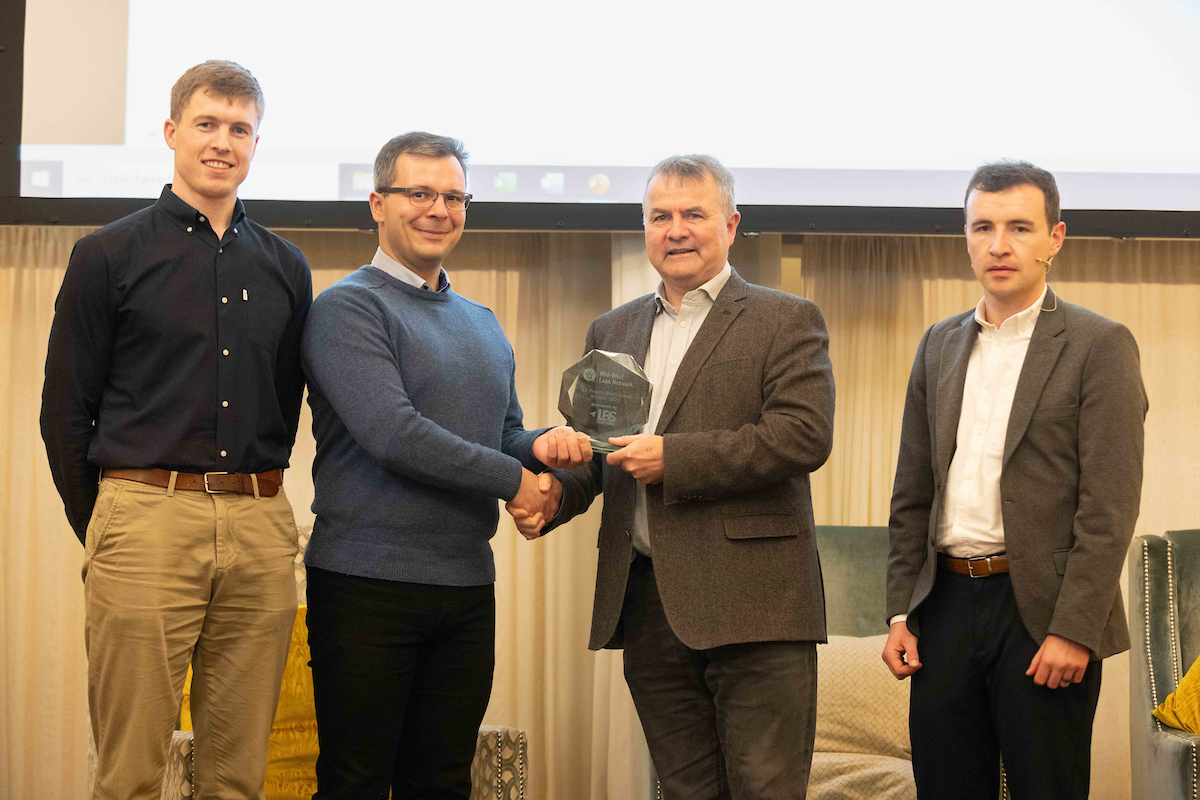 Vincent Leonard, director, LBS Partners, sponsor of the A3 Storyboard competition presents the trophy to Element Six's Ian Daly and Krzysztof Rudnicki, winners of the MNC category, accompanied by Gavin Sheehan, chair, Mid-West Lean Network (right). Photo by Eamon Ward.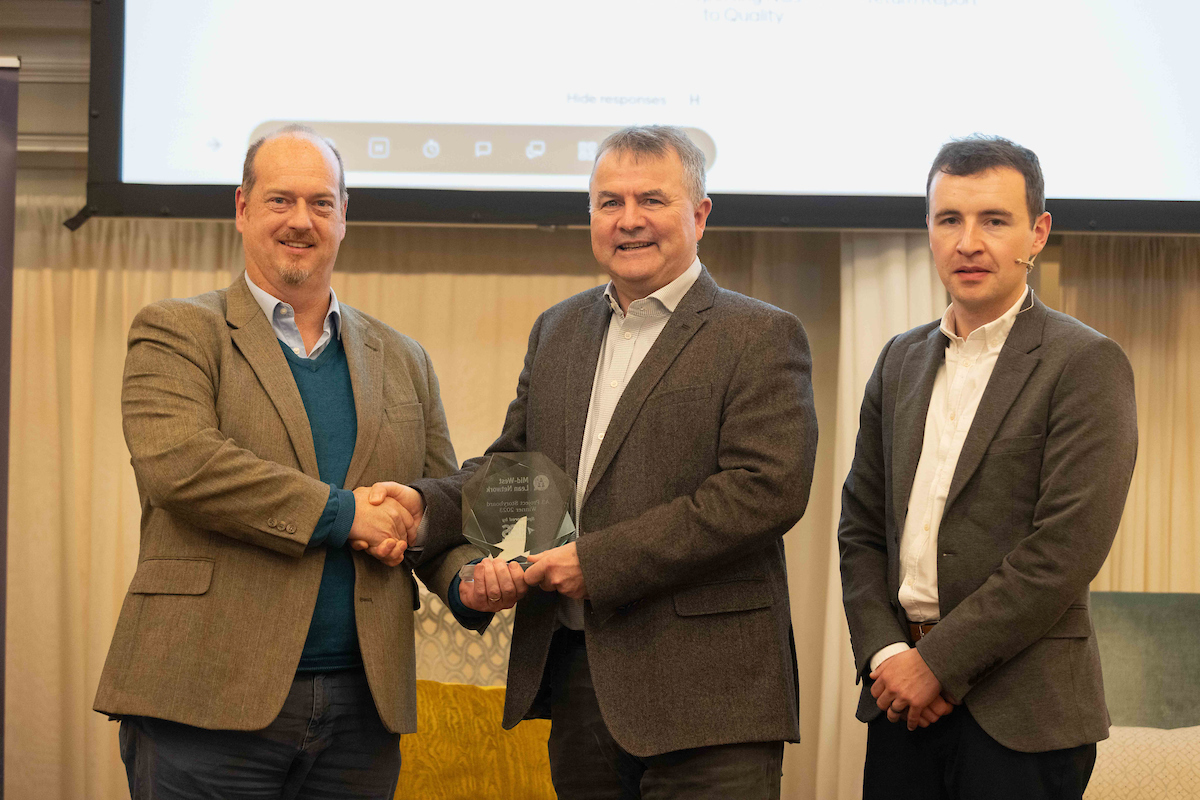 Vincent Leonard, director, LBS Partners, sponsor of the A3 Storyboard competition presents the trophy to Burka Solutions managing director Bernard MacOscair, winner of the SME category, accompanied by Gavin Sheehan, chair, Mid-West Lean Network (right). Photo by Eamon Ward.