Helen Downes, CEO, Shannon Chamber, pictured with Áine Ní Chaoindealbháin, managing directors, VMTV and Glen Winn, Business Assurance (F&RA) director at Virgin Media Ireland. Photo by Eamon Ward.
Since commencing its lean journey in 2013, Virgin Media Ireland has seen the value of investing time in pilot testing and rolling out lean projects that deliver cost benefits to the organisation whilst simultaneously enabling it to improve on its overall customer service.
A number of these projects were showcased during a recent visit by members of Shannon Chamber's Mid-West Lean Network to the Innovation Hub, LEDP, Roxboro. The overall presentation on the day was given by Glen Winn, Business Assurance (F&RA) director at Virgin Media Ireland with team members actively involved in delivering cost and time saving projects zoning in on the projects in closer detail. Virgin Media Television's (VMTV) newly appointed managing director, Áine Ní Chaoindealbháin, also attended, marking her first public speaking engagement since her appointment to the new role was announced.
Operational efficiencies through the implementation of new processes and workflows have been delivered on a range of projects centred on service delivery improvements, all endorsed by both the company's managing director and chief financial officer. As stated at the event, buy-in at this level in an organisation is the cornerstone of lean deployment.
Investment in people development and staff upskilling, in areas such as lean yellow and green belts, robotic process automation, digital literacy, augmented working, emotional intelligence, critical thinking, all part of a life-long learning culture now embedded in the organisation.
Collaboration with the University of Limerick will see further improvements in the digitalisation of processes and an increasing focus on the development of softer skills.
Giving an overview of VMTV's impact in Ireland, the newly appointed managing director, Áine Ní Chaoindealbháin said: "VMTV is enjoying record audiences in 2023, with Rugby World Cup Ireland v New Zealand's match delivering a combined audience of 1.65 million across our linear and digital platforms, the highest rating programme in VMTV's 25-year history.
"Our ambition is to be Ireland's best free streaming service and to grow our player reach across platforms and connected televisions (CTVs). We will continue to assess ways in which we can diversify revenue generation and introduce programme innovation." she added.
Speaking at the event, Shannon Chamber chief executive Helen Downes complimented members of the Virgin Media Ireland team for their energy and enthusiasm for their work.
"This is the second Mid-West Lean Network workshop we have held in Virgin Media Ireland, the last was prior to the pandemic. The work being done, and the benefits being derived by Virgin Media Ireland, gives our members a real sense of how lean can be deployed in a non-manufacturing environment to deliver cost and customer benefits.
"Lean is not about taking people out of the system; it's about making their work more streamlined and innovative and providing a platform for everyone in the company to get involved. This was clearly evident in Virgin Media Ireland where staff are energised through being empowered to embrace new knowledge and challenges."
The event in Virgin Media Ireland was part of the Mid-West Lean Network's 2023 workshop series, which included three workshops held in the region and two visits to Toyota's Lean Manufacturing Centre in the UK. The 2023 events' series concluded with the hosting of the annual Mid-West lean Network conference, which took place in Dromoland Castle Hotel on Thursday, 9 November. An impressive line-up of speakers from diverse sectors shares their stories. Speakers included Heather Lowry, Head of Talent, Diversity and organisation Development, An Post; Martin Tierney, Director, Seating Matters; Niamh Doherty, Director, Lean, STERIS A.S.T. EMEA & APAC; and Paula McDonnell, CEO, TTM Healthcare. The keynote address was delivered by Paul Blahyj, Group Leader Senior, Lean Manufacturing Coach, Toyota Motor Manufacturing UK.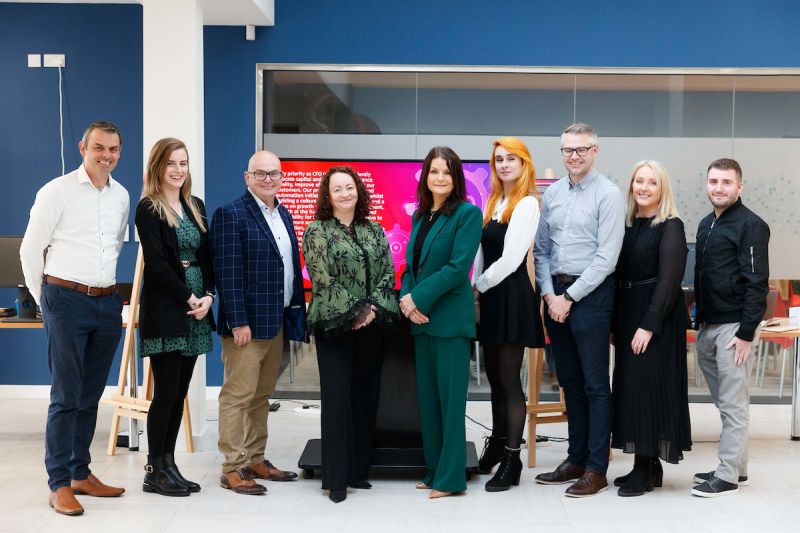 The Virgin Media Ireland team pictured at the Mid-West Lean Network workshop with Helen Downes, CEO, Shannon Chamber (from left): John Joe O'Sullivan, Amy Wallace, Glen Winn, Áine Ní Chaoindealbháin, Lyndsey Kavanagh, Enda Mulcahy, Aisling Keogh and Liam Dowry. Photo by Eamon Ward.