If the Shannon project was starting today, what would it be called? That's the question Shannon Chamber president Kevin Thompstone posed when addressing attendees at the Chamber's annual president's lunch, sponsored by Three, in Dromoland Castle Hotel, Co Clare today (Thursday, 12 December 2013).
While the Free Zone has strong global brand recognition, Mr Thompstone suggested that in today's environment, a descriptor such as Shannon Economic City or Shannon Economic Zone might better reinforce the concept that Shannon is not just a business park but a Special Economic Zone in Ireland offering a mix of airport, industrial, residential, commercial and green areas to facilitate economic activity.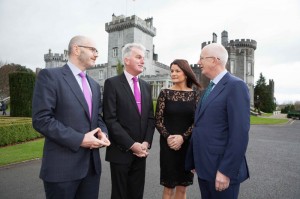 Almost 300 business people attended the lunch to hear keynote speaker Barry O'Leary, IDA Ireland's chief executive comment on Shannon's potential as an international investment location.
Barry O'Leary, Chief Executive, IDA Ireland said:
"IDA is looking forward to working on behalf of Shannon and the wider region under a new structure. Our aim will be to support companies in the region, helping them transform their operations and also expand over time. IDA is pleased to place the full suite of IDA products, services and know-how at the disposal of companies, as part of a new drive to bolster the region into the future."
While saddened to lose a part of Ireland's economic development structure, as a former CEO of Shannon Development, Chamber president Mr Thompstone acknowledged the imprint Shannon Development has made in the region but welcomed the fact that the focus is now back on growing Shannon just as it was when the story started back in 1960.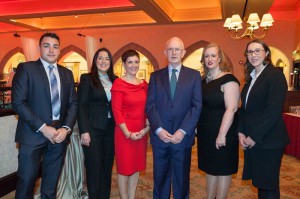 "With over 7,000 people employed in over 100 companies, generating over €600 million annually for the local economy and €3 billion in annual sales, ninety per cent of which are to export markets and, and with the highest concentration of North American companies in Ireland, outside Dublin, Shannon has a very solid base and a diverse sectoral spread of activities.
"Global names such as Intel, GE Lufthansa and Genworth sit comfortably with long-established businesses such as Element Six, SPS and Molex and with Irish names such as EI Electronics, Reagecon and Mincon. Shannon's future is now about building on what it has and adding new types and levels of activities."
Reminding attendees of how Shannon companies play a part in our day-to-day lives, Mr Thompstone concluded: "Shannon has a great story to tell; we just need to keep reminding the international mobile investment community that Shannon is open, ready and capable of delivering a tangible return on investment in diverse sectors. That's why we need a business development team in place to seek out, engage with and secure mobile investment opportunities for Shannon."
The Shannon Chamber President's lunch was sponsored by Three, and supported by Shannon Airport, Laya Healthcare, Morgan McKinley and Enterprise Ireland.
NOTES FOR EDITORS
Some examples of Shannon made products and services that are used unknowingly by so many people as they fly around the world from Shannon or elsewhere.
The oxygen that keeps passengers alive on aircraft is quality monitored using AGC Instrument's Gas Analysis Systems. The oxygen beside hospital beds and the anaesthetic gas used before operations is quality controlled by AGC Instruments.
The applications that run the leasing management processes and the international IT support desk for the largest airplanes ordered from Boeing and Airbus are most likely designed and developed by Piercom.  The applications used to pay for our government services are designed and developed by Piercom.
Whether checking voice mail in Ireland or using prepaid mobile services in Latin America, the likelihood is that those services are delivered by platforms developed at Tecnotree in Shannon.
Arriving back to our chilly wet climate you will be glad that the central heating boiler in your home is probably managed by a controller designed and manufactured by Tekelek and, the level of oil or gas in your storage tank is probably measured by a monitor made at
Every device we use in your everyday lives will eventually be connected to the Internet, powered by chips and software developed at Intel
Reading from a computer or smart device is made possible with interconnection content from Molex; the cars we drive to work in are loaded with Molex connections and; most home appliances in our homes are made using Molex Connectors from Shannon.
Some of the most important and sensitive data is being stored, monitored, and secured by Asystec Data Management solutions in 4 of the top 5 financial institutions in Ireland.
If you have a well for either home or agricultural purposes or have a Geothermal well, they were probably drilled with Mincon rock-drilling tools. The stone used to build the motorways we travel on in Ireland were probably drilled by Mincon tools
The next time you bring your family or kids to a fast food outlet tell them that the oil in the chip fryer and the chocolate desert was probably pumped by Blagdon & Viking Pumps made in Shannon. Their pumps are also used for asphalt and bitumen, as well as chemicals, rubber, bio fuels, crude oils, and ceramic slip for making bathroom white ware. Their pumps lubricate locomotives and wind turbines, just to list a few applications.
The seals in the pumps are probably made by John Crane Sealol here in Shannon.
The medical biomaterial that helps regenerate damaged human tissue is produced by Olympus Biotech.
Release issued by Dympna O'Callaghan, molly d marketing
Shannon Chamber – PR
T: 061 369898 / Mbl: 086 2371508