Shannon Chamber would like to encourage to encourage members to participate in a 5k run/walk, which takes places in Shannon this Friday, 25 September.
The run/walk is being organised by Genworth in aid of Clare Crusaders and commences at Building 7000 at Westpark Business Campus at 12.30pm.
Full details are on the poster below.
Shannon Chamber runners/walkers – we hope to see you all on Friday!!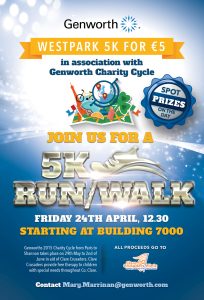 Raffle 1st Prize: Sony 40' LED HD Smart TV
2nd Prize – Williams F1 goodie Bag with shirt signed by Felipe Massa and Vaterri Bottas, Sponsored by Genworth in Partnership with Williams F1 Racing team
3rd Prize – 2x Tickets to Comedian Dylan Moran in the Cork Opera House, Sponsored by GNW S&S
4th Prize – Sage Restaurant, 1x "Lunch for 2" Voucher
5th Prize – €50 Voucher for Lavender Beauty Salon, Shannon
Prizes for Run/Walk Entrants
1st place prizes of 2x bottles of Wine for the Winner of the Men's & Women's race
Spot Prizes for Entrants
1st Prize of 6 months Membership at Ryano's fitness Gym in Shannon Industrial Estate
2nd Prize – Williams F1 goodie Bag with shirt, hat and keyring, sponsored by Genworth in Partnership with Williams F1 Racing team
3rd Prize – €50 voucher for Elverys sports shops, Sponsored by DELL