Helena Doody, Tracy Hegarty, Kate O'Connell, Shannon College of Hotel Management with Dermot Kelly and John Gavin,  owner/directors Shannon Springs attending the launch of the newly renovated Shannon Springs Hotel and the new wok station and lunch time buffet menu. Photograph by Eamon Ward
Entrepreneurship is a term more often associated with industry than tourism but two hotel graduates, John Gavin from Shannon College of Hotel Management and Dermot Kelly from Galway Mayo Institute of Technology (GMIT) are changing this mind-set through investing €0.5 million in transforming a Shannon hotel.
Having worked long hours in international hotels since graduating, the enterprising duo always yearned to go out on their own but it took them five years to find the right hotel. Once found, they worked tirelessly to accomplish their dream of creating a product suited to families, corporates and tourists alike. 
The result of that dream is the Shannon Springs Hotels located on the N19 in Shannon. Fuelled by bank loans and their own hard-earned investment, the pair have already invested €0.5million in rebranding the hotel, adding a new gastro bar, The Old Lodge Gastro Pub, undertaking complete interior fit outs, installing new technology including flat screen TVs in all rooms, hi-speed Wi-Fi throughout the hotel and a €30,000 IT till solution enabling orders to be transferred directly from table to kitchen.
Delighted with their progress since taking over the hotel in December 2015, the new owners have used their vast hotel management experience and expansive business acumen to create a new offering in hospitality for Shannon, increasing employment from 18 to 40, and injecting €1.5million into the local economy through sourcing products for the hotel and restaurant.
Speaking about their decision to set up on their own, these two highly focused entrepreneurs stated: "We always had the passion and drive to go out on our own; we have worked long hours (60-70) a week in other hotels and felt we had amassed the knowledge and know-how to drive a business of our own.
"Our goal in setting up on our own was to provide a friendly, courteous and customer-oriented hotel, displaying high levels of quality and service and catering for the needs of corporate and local family trade.
"As an owner-operated hotel, we want to belong to and give back to the region; that's why we have also chosen to sponsor local rugby, soccer, GAA teams and Muse Productions. These young people are the future lifeblood of the area and we are glad to play our part in facilitating their endeavours."
A new restaurant and wok station, the latest refurbishment undertaken involving an investment of €60,000 was launched recently. The event was attended by company executives from the Mid-West region including the deputy director and registrar of Shannon College of Hotel Management, Kate O' Connell.
Speaking after the launch, Ms O'Connell said: "I am delighted that The Shannon Springs Hotel is now owned and expertly managed by one of our graduates, John Gavin, and his business partner, Dermot Kelly, a GMIT graduate. It's not often we get invited to lunch to see first-hand how former students have transferred their learning into the workplace. Many hotel management graduates travel abroad post graduation so stopping off for lunch or coffee is just not an option.
"Having visited the hotel I can see the effort and pride that has gone in to transforming it into an excellent venue for a corporate or family gathering. As an owner-operated hotel, you get a true warm and professional welcome, not to mention the selection of menu offerings, efficient service and a willingness to attend to your every need. I enjoyed attending the corporate lunch, which was a great success and I enjoyed making contact with businesses in the area; it was a very enjoyable and well-organised event.
"It is the mission of the Shannon College of Hotel Management to educate managers for the worldwide hotel industry, but I must say it is very rewarding when you see John Gavin being one of the owners of the Shannon Springs Hotel in Shannon; it is like he has come home."
Shannon Chamber chief executive Helen Downes, who also attended the launch with Chamber staff, stated: "We were amazed at the transformation and the exceptionally high standards the new owners have set themselves. With 10,000 people travelling to and from Shannon daily to work, the Airport on our doorstep, and strategically positioned between the north and south zones of the Wild Atlantic Way, adding extra rooms to the region's hotel stock is always a welcome development.
"We so often acclaim entrepreneurs in the business and industry sectors and are inclined to forget that entrepreneurship extends into the hospitality sector. We are delighted to welcome John and Dermot to the Shannon business community and know they will make a valuable contribution to the region."
These two entrepreneurs know what they want: to create a high-quality hotel in Shannon that will offer outstanding quality and services, but with a homely touch, They have the credentials to make this happen.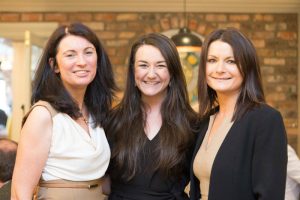 Therese Gillespie, Chloe Wade, IDA and Helen Downes, Shannon Chamber attending the launch. Photograph by Eamon Ward