Given the significance of today, 1 February, and its linkages with St Bridget, Shannon Chamber would like to congratulate its contracted photographer, Eamon Ward, on being awarded 2nd place in the Reportage category at this year's Press Photographer of the Year 2017' awards, announced last Friday in Dublin.
His submission entitled 'ST BRIDGET'S WELL' was deemed by the judging panel as "A traditional Irish pilgrimage well presented."
The photo descriptor read: As winter slowly gives way to spring, pilgrims continue the ancient tradition of celebrating the feast of St Bridget – visiting her Holy Well high above the Atlantic shore on the Clare coast. Traditional prayer rounds along a winding path through the trees to the stone cross culminate with many leaving offerings and petitions, as well as drinking the water from the well.
The Press Photographer of the Year Awards were established to bring the talented & memorable work of Ireland's. This year's judges included Dermot O'Shea, former picture editor of The Irish Times; Sophie Batterbury, Picture Editor of i + Johnston Press and Tom Lawlor, international photographer and broadcaster. The multimedia award was judged by Michael Lee, renowned RTÉ cameraman.
Over 2,000 entries are received annually, from which the Judging panel picks first, second and third place in each of the nine picture categories, as well as the overall winner; Gerry Mooney from Independent News & Media was the 2017 overall winner.
Commenting on this achievement, Shannon Chamber chief executive Helen Downes said: "Eamon Ward has a very creative photographic eye, which is evident from the excellent photographs he captures at Shannon Chamber events. We are delighted that his talent has been recognised at this national level and commend him on his success."
All 2017 winners can be viewed at:
http://www.ppai.ie/awards/2017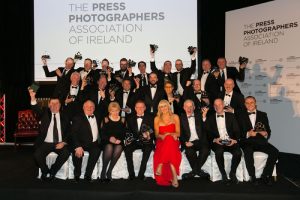 #PPAIAWARDS @PPAI_IRL www.ppai.ie