The British Ambassador to Ireland, Robin Barnett (7th from right) met with a delegation from Shannon Chamber, Lufthansa Technik Shannon, GE Digital Solutions and Care About You Ltd. during his first visit to Shannon. Photograph by Eamon Ward
In office since August 2016, the British Ambassador to Ireland, Robin Barnett, paid his first visit to Shannon today (Friday, 28 April) to familiarise himself with the area, meet key business executives and hear first-hand the issues of concern to business regarding Brexit.
The visit, which was organised by Shannon Chamber and hosted in Lufthansa Technik's aircraft maintenance facility at Shannon Airport, was conducted in a very convivial atmosphere and included a tour of the maintenance facility, an overview of the company's lean operating system, a briefing on Shannon Chamber's activities and an open discussion on potential areas for collaboration between Ireland and the UK pre and post Brexit.
Contributors to the discussions included: Shirley McCay, director of trade and investment in the British Embassy Dublin; Tom Caffrey, head of aviation services with Lufthansa Technik Shannon; Ian Barrett, managing director of Care About You Ltd., and director and ex-President of Shannon Chamber; Diarmaid Mulholland, president and CEO, measurement and sensing with GE Digital Solutions and Helen Downes, CEO, Shannon Chamber.
Referring to Brexit, Ambassador Barnett said that the world would not end as a result of a single event, that Brexit is not a zero-sum game and that there will be positive partnership opportunities between Ireland and UK companies.
"There are untapped mutual opportunities in areas such as Medtec which need to be explored," he stated, adding that it was his ambition to visit every county in Ireland to assess for himself the challenges and opportunities that lie ahead.
Whilst not willing to enter into any discussions concerning politics as his position is apolitical, Ambassador Barnett did refer to the agri-sector stating that if the 400,000 tonnes of Irish beef currently being exported to the UK were to be stopped post Brexit, they would have to go to other EU countries and the impact on prices would be enormous.
Confident, as a result, that the correct solutions will be found, Ambassador Barnett said that no country can gain from a cliff edge and with €1.3bn trade between Ireland and the UK, and continuing to grow, there is no reason to doubt that solutions will be found to suit all.
"The crystal ball may be quite cloudy at the moment but it is achievable," he stated.
"The UK needs a bespoke arrangement that works for the UK and for the 27 EU countries, most especially Ireland.
"Be assured that there are a lot of dedicated people in Ireland working to prepare the ground for what's ahead. The EU
negotiation mandate will most certainly have Ireland on it," he added.
Stating that while some UK companies want to grow in Ireland, there are also Irish companies that wish to explore opportunities in the UK and the British Embassy in Dublin is keen to assist businesses in both undertakings.
While no-one likes uncertainty, it is now part of the new norm and Shannon Chamber, in summing up the meeting, pledged to further engage with the British Embassy on behalf of its members, retain an open-door policy to ensure that the changes ahead for both economies are managed carefully and deliver results that meet each nation's trade requirements.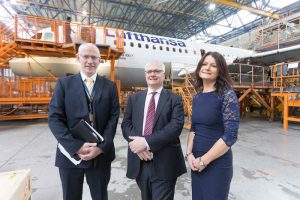 Ambassador Robin Barnett pictured with Tom Caffrey, Lufthansa Technik Shannon and Helen Downes.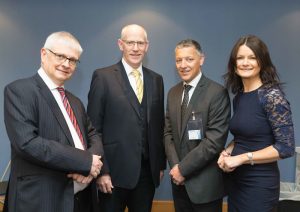 Ambassador Barnett with Tom Caffrey, Diarmaid Mulholland, GE Digital Solutions and Helen Downes.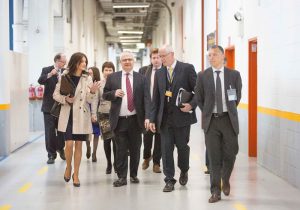 Ambassador Barnett is given a tour of the Lufthansa Technik Shannon facility. Photographs by Eamon Ward