'Midnight run' at Shannon Airport another huge success as Limerick's James Liddane and Clare's Cushla Hehir take top honours
86 year old Bill Moloney among those to finish the 5km course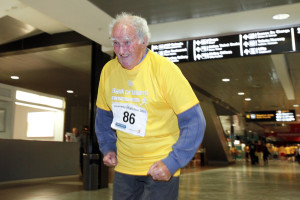 Ireland's longest runway had traffic of a different kind at the weekend as 2,000 souls went to post in one of Ireland's most unique mass participation events – the Bank of Ireland Runway Night Run at Shannon.
Young and old, from early teens to their 80s, participated in the 'midnight run' event that has raised much needed funds for the Shannon Group plc's chosen charities for 2015 –TLC4CF (Tipperary Limerick Clare for Cystic Fibrosis) and Milford Care Centre, Limerick.
The success of the inaugural event last year led to the organisers this year having to almost double capacity as the appeal of participating in the unique run into the early hours of Saturday morning took hold.   And it showed as the Airport Terminal throbbed right up to midnight as the 2,000 participants readied for the event with a brisk warm-up led by 'Mr Motivator' Richie Clifford.
By midnight they were spread ten deep and more across a 50m starting tape before Shannon Group CEO Neil Pakey sounded the gun to loud cheers.
Among those stepping it out at the flood-lit event were Bill Moloney (86), a retired Shannon Airport executive.  "In my day we were doing a lot of running around here alright, but not of the type that we had here tonight.  It was great fun.  The beauty of being 86 is that you can bend the rules so I did it in my own time," he said.
Others to row in behind the event were GAA pundit, former Tipperary All-Ireland hurling title winning manager and Bank of Ireland Area Manager for the Mid-West Region Liam Sheedy.
"It's a fantastic event, so novel.  It's a typical Shannon Airport event; something new and different and it's suited to all ages and fitness levels.  We're delighted to be involved as sponsors at Bank of Ireland and not least because it is an event that promotes healthy activity and that the proceeds go to two great local charities."
Shannon Airport CEO Neil Pakey said that the demand for places this year was beyond expectations.  "Our biggest difficulty this year was telling people we could not accommodate them as the event was fully booked in 36 hours.  If we had three times the capacity we would still have booked out. After just two years now this fixture is a really popular one on the events calendar," he said.
The CEO continued:  "There was such a great buzz at the airport.  It was great also to see that the event has not just national but international appeal.  We had 14 people alone on a Heathrow flight who came in especially for the event.  We had registrations from up and down the country; from the likes of Counties Down, Cork, Galway, Mayo, Kerry and, of course, big numbers from Clare and Limerick.
The runners also approved. "It was great.  Such a flat course, so different to anything else I've done and that's the attraction.   Events like these really get people out and there was a really great atmosphere," said Virginia Tuohy from Limerick.
The event winner was well known Limerick athlete James Liddane, who completed the course in 15:57.  First lady home was Cushla Hehir from Ennis in a personal best for the 5km of 17:58.
Links to news video from event as follows (note 86 year-old Bill Maloney's cameo):
Youtube link: https://youtu.be/6YhS0JIKC_c
Embed Code: <iframe width="560″ height="315″ src="https://www.youtube.com/embed/jLiCO8ZCaHg" frameborder="0″ allowfullscreen></iframe>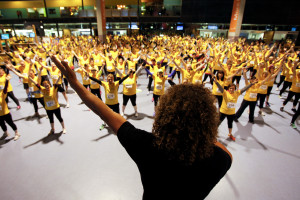 Ends