The Corpus Christi School Choir Moyross pictured with keynote speakers at Shannon Chamber's CSR event at Shannon Airport. Photo. Eamon Ward.
People today want to work for socially responsible companies. That was the message that came across loud and clear at the first-ever Corporate Social Responsibility (CSR) evening organised by Shannon Chamber. The event, which was held at Shannon Airport, was organised to give the 'givers and receivers' of support, financial or otherwise, the opportunity to come together to see how each could benefit from linkages.
The staging of the event was prompted by research undertaken by Shannon Chamber to assess the level of CSR being undertaken by its member companies and the organisations they are supporting. This research found that 19 local, 14 regional, 16 national and 2 overseas charities or projects benefited from the CSR being undertaken by the cohort of companies contacted. The causes supported are very varied: education, health, sport, homelessness, youth, entrepreneurship, domestic abuse, community, special needs, poverty, suicide prevention, counselling services, disability, retirement and youth development overseas.
Opening the event, Shannon Chamber CEO Helen Downes said: "This research highlighted that communities and people are gaining from the financial and man-hour support expended by companies in this region and that employees are very engaged and very active in the decisions being taken as to which charity their employer should support."
This fact was endorsed by the corporate presenters from the Shannon Group, Zagg International, Ei Electronics, HOMS Solicitors, and Element Six who each endorsed the fact that true giving comes from the collective.
In outlining why they choose to undertake CSR, and what it means to them, as givers, all presenters were unanimous in stating that their staff gain great experience and personal memories from giving back to their communities and causes and like to do something tangible.
Presenters from the receiving side representing Milford Care Centre, Clare Crusaders and Junior Achievement Ireland made very powerful presentations on how assistance from business and the general public enables them to undertake their work.
Milford Care Centre needs to fundraise €1.8m annually to support its operations which, this year, included the opening of a new hospice which has 34 single bedrooms fully operational, made possible through substantial corporate funding; Clare Crusaders Children's Clinic, which was set up by parents of children with special needs to provide much-needed assistance to children with special needs, requires funding on a continuous basis and is always seeking new sources to support the wide range of activities the Clinic undertakes and; Junior Achievement Ireland, which links the corporate sector with schools, described working to improve the education of our younger generation as an excellent form of personal development for staff giving them the opportunity to be role models for students who might be thinking of leaving school prematurely.
"Linking the givers and receivers of CSR was a pilot project for Shannon Chamber and one we will seek to build on in the years ahead. The value to each side is so real and tangible; it's something we want to see more companies in the region doing. We were delighted to have the Sixmilebridge Folk Club open the event, as corporate sponsorship enables them to stage a very successful annual Winter Music Festival, heading into its 20th year in January 2019 and; the Corpus Christi School Choir from Moyross who enthralled the audience with their amazing sounds to close the event. This choir demonstrates the power of giving young children the opportunity to express themselves through song; their journey is also being supported by many companies in the Mid-West.
"Companies seeking more data on who they might link up with to initiate a CSR policy should contact us directly at 061 475854. We are keen to have leaders and new entrants into this CSR space," added Ms Downes.
Organisations exhibiting at the event, also seeking linkages with the corporate sector included: ADAPT Domestic Abuse Services, Alzheimer Society of Ireland, Bedford Row Clare, Bóthar, Carrigoran House, Children's Grief Centre, Clare Youth Services, Clarecare, Cliona's Foundation, Creative Arts Therapy Centre, Cystic Fibrosis Ireland, EmployAbility Clare, the Hope Foundation, Irish Guide Dogs, Irish Heart Foundation, Irish Wheelchair Association, ISPCC Childline, Make A Wish Ireland, Mid-West Simon Community, Pieta House, Saoirse Foundation T/A BUMBLEance, and Sixmilebridge Folk Club.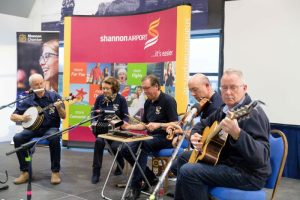 Musicians from Sixmilebridge Folk Club open the event. Photograph by Eamon Ward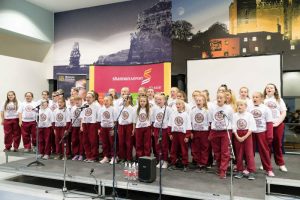 Corpus Christi School Choir Moyross close the event. Photograph by Eamon Ward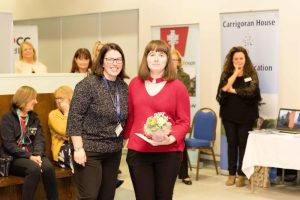 Shannon Chamber's Lijana Kizaite makes a presentation to Limerick Institute of Technology student Niamh Healy, who completed an internship what Shannon Chamber doing CSR research. Photograph by Eamon Ward