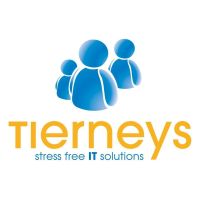 Tierney's Office Automation Ltd, based in Ennis have just recently joined the Chamber and look forward to networking and meeting businesses in the local region.
Tierney's provide IT Services to the SME and Hospitality Industry, they sell, maintain and provide customers with IT Solutions such as Hardware, Software, Cloud Solutions, Hotel PMS and Point of Sale Systems, file back-up services, Security and Management of on-site maintenance and remote support services.
With 23 full time staff, the team at Tierney's has grown over its 22 years in business however one thing that hasn't changed in 22 years is the business culture and mission core purpose.
"Our whole company culture is service based. Every member of our team has a customer service remit and each member of the team engages with customers during their working day. Our approach to our customers is pro-active in that we work with them, analysing their business requirements on a daily basis. We understand the demands that business growth can place on a business and coupled with the innovation aspect of our core purpose, we are always looking at improving how our customers operate. The biggest change over the past few years has been the transition to cloud based services where customers place even greater trust in their IT service partners because we can and do offer a service that they could not dream of offering themselves" Andy Tierney, MD.
Tierney's have just recently become a Silver Partner for Microsoft, and they are considered one of the biggest partners for Microsoft in the Munster Region. Tierney's can define a Microsoft cloud strategy by identifying what applications/workloads are best suited for the Cloud, mapping your current business objectives with the right cloud technology and developing a roadmap outlining how to get the most out of your cloud investment. They are continually working with Microsoft Office 365 and Microsoft Azure, the biggest cloud computing platforms currently on the market.
Tierney's currently manage the IT Systems for over 200 Irish Hotels, that's more than a quarter of all Irish hotels, they currently manage the Dalata Hotel Group which consist of over 40 properties across Ireland and just recently in the UK.
Because Tierney's are so involved with ensuring that systems are running efficiently in their customer sites, they take great care when selecting the products that they sell, therefore only sell best of breed products. A sample of the brand names they represent are: Microsoft, Hewlett Packard, Sage Accounting, NCR Point of Sale, Hotellinx Property Management System, ESET Anti Virus, Netgear, SonicWALL and Watchguard Security Systems. ''In a typical week we will deal with up to 180 different telephone / remote customer issues, up to 50 on-site repairs of hardware or new installations'' Andy explains.
Andy and the team look forward to meeting members at the upcoming Chamber events and discussing how they might help your business IT requirements and delivering services that can change how you communicate with your customers and how your employees interact. Ensuring it saves time, money and easier ways to share with others, plus freeing up your valued resources for optimal productivity.
Contact: Andy Tierney/Renae Downes
Tierney's Office Automation Ltd.
Ph: 065 6828 281
Email: sales@tierneys.ie