Minister of State for Employment and Small Business, Pat Breen TD pictured with (from left): Cillian Griffey, manager, Shannon Chamber Skillnet; Paul Healy, CEO Skillnet; and Helen Downes , CEO Shannon Chamber. Photo: Shauna Kennedy
Small and medium-sized enterprises (SMEs) are a core element of our economy and it is vital that they have the skills to scale their businesses and realise their full potential. This was the key message delivered by Pat Breen T.D., Minister for Employment and Small Business when he launched the Up-Skilling the Mid-West last week.
The event, held in Limerick and organised by the nine Skillnet training networks operating throughout the region, showcased the many subsidised training options available to SMEs (and multinationals), through Skillnets.
Keynote speakers at the event included Paul Healy, chief executive, Skillnets; Connor Flanagan, CEO, Atlantic Aviation Group Shannon; Sheamus O'Donovan, managing partner, O'Donovan Insurances; Peter Nolan, management consultant, Franklin Covey; Dr Ardawan Lalui, Lalui Leadership; and Malin Kelly, director, Modig Corporate Services Ltd.
Opening the event, Minister Breen said that maintaining a well-skilled workforce has been a key pillar of economic development and investment in Ireland for many years. Both the National Skills Strategy 2025, and Skillnets Statement of Strategy are focused on Ireland's development (as an economy and society) through a significant emphasis on the need for up-skilling those in employment, and promoting the need for employers to participate in the development of their employees.
"Skillnets and its networks play an important role in regional skills development in the Mid-West. In recent years, SMEs have accounted for over 85% of the 13,000 plus companies funded annually by Skillnets. In 2016, the nine Skillnets networks based in the Mid-West had a budget of over €2.2m to support businesses in the region, including over €1m grant invested by Skillnets. This significant investment resulted in over 30,000 training days being delivered in 2016 to over 4,500 employed and unemployed trainees. Skillnets and its networks therefore play an important role in regional skills development in the Mid-West," the Minister stated.
Skillnets CEO Paul Healy responding to the Minister added: "The key priority for Skillnets is to drive increased participation of employers in workforce development through our networks model. Skillnets also plays an important role in regional skills development by facilitating dialogue between employers, and education and training providers at local level, to meet enterprise needs. The Up Skilling the Mid-West event is part of a broader awareness building campaign we are undertaking with employers nationally and we are very pleased that Minister Breen could join us."
Shannon-based Atlantic Aviation Group's CEO Connor Flanagan said while his company excels at finding and fixing problems, thanks to its experience and in-house technical expertise, it is poor at understanding the commercial impact of its technical delivery.
"Having looked at where training and up-skilling would have the greatest impact within the company, not just at management level but also for crew-leads and project-leads, we found that Shannon Chamber Skillnet gave us access to the training we
Killaloe-based Sheamus O'Donovan from O'Donovan Insurances, a member of the Derg Business Alliance, acknowledged the value of the structure specific training that Skillnets offers to SMEs.
"The short modular courses that we as a company and a member of a business network can avail of are invaluable. We effectively have access to a HR training resource that we could not otherwise afford ourselves. The training providers are sourced for us, the prices are negotiated and the locations and facilities arranged. uLearning Skillnet is our first port of call for all our training," he said.
Samples of the types of training offered by Skillnets on topics are diverse as corporate well-being, organisational transformation and the '7 Habits of Highly Effective People' were given by guest presenters Malin Kelly, Modig Corporate Services, Dr Ardawan Lalui, Lalui Leadership and Peter Nolan, Franklin Covey.
The nine Skillnet Networks involved in organising the event included: Aviation & Aerospace Skillnet, Aviation Finance Finuas Skillnet, Business Excellence Skillnet, Irish MedTech Association Skillnet, ulearning Skillnet, Limerick Chamber Skillnet, Shannon Chamber Skillnet, Innovation & Lean Sigma Skillnet and Lean Water & Energy Skillnet.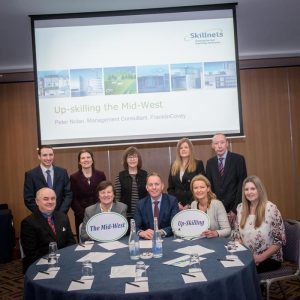 Organisers of the 'Up-Skilling the Mid-West' event (Front row l-r): Gerard Murray, ulearning Skillnet; Dermot O'Neill, Irish Centre for Business Excellence; Paul Healy, CEO Skillnets; Linda Barron, Aviation Finance Finuas & Aviation Aerospace Networks; Sue Davies, ulearning Skillnet.
Back row l-r: Cillian Griffey, Shannon Chamber Skillnet; Anne Morris, Limerick Chamber Skillnet; Grainne Walsh, Business Excellence Skillnet; Pauline Flanagan, Irish Medtech Association Skillnet and Brian O'Shaughnessy, Skillnets. Photo: Shauna Kennedy