Speaker panel at the Skillnet 'Up-Skilling the Mid-West' seminar in Dromoland Castle Hotel (from left): Stephen Linnane, Element Six; David Ward, Lufthansa Technik Shannon; Helen Downes, CEO, Shannon Chamber; Brendan McGinty, chairman and Paul Healy, chief executive, Skillnet Ireland; Cillian Griffey, Shannon Chamber Skillnet; Paul Girr, Jaguar Land Rover; Noel Gavin, Northern Trust; Tracey Donnery and Dave Flynn, Skillnet Ireland. Photo: Eamon Ward.
Skillnet Ireland Chief Executive Calls on Employers to Prioritise Staff Development
Ireland currently below EU average (11%) and significantly behind top performers in terms of employee training
At 7%, the lifelong learning participation rate in Ireland is well below target of 15% by 2025 set in National Skills Strategy
Skillnet Ireland will invest €4.3m grant in supporting over 1,100 companies in the Mid-West, benefitting 7,000 employees at a local level in 2018.

Skillnet Ireland launches new brand at upskilling event in Dromoland
Thursday, 17 May 2018: Businesses from across the Mid-West region came together today to share strategies for recruiting and retaining talent within their organisations at an event in Dromoland Castle, Co Clare. Themed 'Upskilling the Mid-West – Innovative Ways to Attract and Retain Talent', high profile businesses such as Lufthansa Technik Shannon, Jaguar Land Rover and Northern Trust spoke about the challenges of retaining talent within the Mid-West Region.
This event was hosted by eight Skillnet Ireland Networks in the mid-west at Dromoland Castle, Co Clare: Shannon Chamber Skillnet, Aviation and Aerospace Skillnet, Aviation Finance Finuas Skillnet, ICBE Business Excellence Skillnet, Irish MedTech Skillnet, Lean and Green Skillnet, Limerick Chamber Skillnet and Next Level Skillnet in conjunction with Mid-West Regional Skills.
Lufthansa Technik Shannon Ltd (formerly Shannon Aerospace), based in Shannon since 1992 called on more employers to invest in employee training.
"Over the last 19 years, thanks to the support of Skillnet Ireland and the Aviation and Aerospace Skillnet, we have been able to upgrade the employee skill sets necessary to maintain competitiveness within a rapidly changing industry. The benefit of working with Skillnet Learning Networks is that they provide access to flexible funding and support to allow companies to acquire the skills and training most relevant to their business"
Pat Shine CEO of Lufthansa Technik said at the opening of the new Lufthansa Technik Shannon Training Campus
"that the investment in our training is seen as imperative to support the future development and growth of our aircraft maintenance business in Shannon and to also support our growing international aircraft maintenance training business"
A recent report into Lifelong Learning Participation Among Adults showed that at 7%, Ireland is falling well behind other EU Member States, including Denmark (31%), Sweden and (29%) and Finland (25%). In order to meet the target, set out in the National Skills Strategy, Ireland needs to double its participation rate to 15% by 2025.
Speaking from the event, Chief Executive of Shannon Chamber of Commerce, Helen Downes said:
"It has never been as important as it is today for employers and employees to focus on upskilling, we are witnessing a cross sectoral increase in the level of activity in this area among employers as they see the value in attracting and retaining talent within their organisations."
The event also provided the platform to launch Skillnet Ireland, the national agency for workforce development (formerly Skillnets) bringing together 67 Skillnet Networks across the country under one unified brand and strategy.
Speaking about the launch of Skillnet Ireland, Minister for Education and Skills, Richard Bruton T.D. said:
"We have set the ambition to make Ireland's education and training service the best in Europe by 2026. Upskilling and lifelong learning are critical to delivering on this ambition. This year we will reach over 50,000 employed learners with programmes to help workers grow and develop in their current career or to change direction if they wish to.
"Skills are central to our competitiveness as a nation and government policy is targeted at both protecting and enhancing that. The promotion of lifelong learning and adapting to technological advances has always been at the core of workforce development.
"Skillnet Ireland plays a key role in increasing the skills supply, and strategically looking at the needs of our workforce for business and economic growth through its learning networks. Fulfilling the skill needs of the economy and ensuring that we are 'future proofed' to meet new challenges, is an important part of delivering on our ambition to make Ireland's education and training service the best in Europe by 2026."
At the event in Dromoland, Brendan McGinty, Chairperson of Skillnet Ireland outlined the new Skillnet Ireland company vision.
"Today marks a major milestone for our organisation. This is much more than just a name change. It's about asserting our standing as an established national agency with a deep heritage in enterprise-led training. We are also looking to the future: the challenges of promoting the upskilling agenda are well understood and Skillnet Ireland is well placed to make a significant contribution to the national skills agenda across our economy's sectors and regions".
Speaking at the event, Skillnet Ireland Chief Executive Paul Healy called on employers to urgently prioritise staff development to ensure future growth and competitiveness.
"The world of work is changing rapidly and as a result, people's skills are becoming irrelevant, redundant or dated more quickly. Employers are distracted by a myriad of priorities and responsibilities and often don't give staff training the emphasis it needs. If Ireland is to meet the targets set out in the 2025 National Skills Strategy, remain globally competitive and navigate the challenges of Brexit, all employers need to prioritise investment in lifelong learning, now and into the future.
Skillnet Ireland now having a compelling, joined up brand in the market will make it easier for all of us to promote the importance of workforce development and to reach new employers and trainees."
At the event, Skillnet Ireland also announced that an additional €1M in funding is now available to its Skillnet networks and their member companies who want to address the rapidly changing work environment by taking a more proactive approach to upskilling their employees. Skillnet Ireland has identified several high-growth sectors where skills are in high demand, including ICT, software, life sciences, bio-pharma, animation and international financial services. Chief Executive Paul Healy explained;
"The impact of AI, autonomous systems and robotics on jobs is impacting on the skills needed and how we work. Employers need to adapt to this ever-changing work environment, and I would strongly encourage them to take advantage of Skillnet Ireland subsidised training – and to prioritise staff development in every sector and region."
If you would like your organisation to grow and succeed, get in touch with Skillnet Ireland and avail of a wide range of funding, supports and training services to assist your team. For further information visit www.skillnetireland.ie
ENDS//
Notes
The report on Lifelong Learning Participation Among Adults was published by the Expert Group on Future Skills in 2017.
http://www.skillsireland.ie/Publications/2017/2017-Lifelong-Learning-Report.pdf
About Skillnet Ireland
Skillnet Ireland is the national agency responsible for the promotion and facilitation of workforce learning in Ireland. Skillnet Ireland funds over 50 industry representative groups, supporting over 15,000 companies and 50,000 trainees annually.
Skillnet Ireland operates under a joint investment model, part-funded by participating businesses in one of our 60+ learning networks. Each network, funded by Skillnet Ireland, is a cluster of companies from the same sector or geographical location. This approach has received international recognition as a model of best practice from the OECD and ILO, amongst others.
We believe that maintaining a highly skilled workforce is essential to Ireland's national competitiveness. Skillnet Ireland was established in 1999 and is supported by leading employer and employee representative bodies.
Skillnet Ireland (formerly Skillnets) is funded from the National Training Fund (NTF) through the Department of Education and Skills (DES).
ENDS//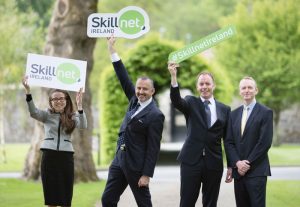 Brendan McGinty, chairman and Paul Healy, chief executive (centre) launching the new Skillnet Ireland (formerly Skillnets) identity in Dromoland with Tracey Donnery and Dave Flynn, executive directors with Skillnet Ireland. Photo: Eamon Ward.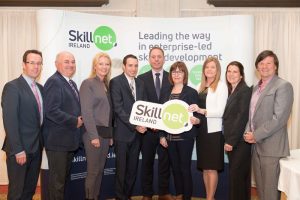 Paul Healy, chief executive, Skillnet Ireland (centre) pictured at the Up-Skilling the Mid-West seminar at Dromoland Castle with (from left): Joe Leddin, Regional Skills Mid-West; Gerard Murray, Next Level Skillnet; Linda Barron, Aviation Skillnet; Cillian Griffey, Shannon Chamber Skillnet; Grainne Walsh, ICBE Business Excellence Skillnet; Pauline O'Flanagan, Irish Medtech Skillnet; Anne Morris, Limerick Chamber Skillnet; and Dermot O'Neill, Advanced Productivity Skillnet. Photograph by Eamon Ward