An Taoiseach, Leo Varadkar TD, pictured at Shannon Chamber's lunch in Dromoland Castle Hotel with (from left): Helen Downes, CEO, Shannon Chamber; Rose Hynes, Chairman, Shannon Group plc; Kevin Thompstone, director, Shannon Chamber; and Matthew Thomas, CEO, Shannon Group plc. Photo: Eamon Ward.
An Taoiseach, Leo Varadkar TD, briefed on strategic projects at planning and operational stages in Shannon and the Atlantic Economic Corridor (AEC)
Home to the largest cluster of mobile investment outside Dublin and the international gateway to the Atlantic Economic Corridor (AEC) and the Wild Atlantic Way, Shannon's importance as an economic engine at both regional and national levels was outlined to An Taoiseach, Leo Varadkar TD during his visit to Shannon today (Saturday, 20 January 2018).
The Taoiseach was keynote speaker at a Shannon Chamber lunch in Dromoland Castle Hotel, sponsored by the Shannon Group and co-sponsored by Investec, Clare County Council, Keating Connolly Sellors Solicitors, DB Schenker, Willis Towers Watson and Peach Recruitment.
Welcoming An Taoiseach to Shannon, Chamber director Kevin Thompstone said he was visiting in a week when Jaguar Land Rover announced its decision to locate a new software engineering centre in Shannon, creating 150 jobs, which was an endorsement of Shannon's attractiveness to foreign direct investment.
He thanked the Taoiseach for his foresight, as Minister for Tourism, Transport and Sport, to give Shannon its independence, which has enabled the airport to grow passenger numbers from 1.2m to 1.7m, with an intended growth level to the 2m passengers per year level.
Taking the opportunity to illustrate the many initiatives underway to build on the already impressive assets of Shannon, the region and the Atlantic Corridor, Mr Thompstone said that the completion of the M17/M18 motorway will put Shannon Airport in the centre of the west of Irelands' motorways and will help enhance the airport's growth.
Stating that Shannon had no history of internationally trading manufacturing when it first opened for business in the early 1960s, Mr Thompstone pointed out that it was only after early foreign direct investment arrived that a family tree of Irish owned start-ups emerged, many of whom, like Ei Electronics and Mincon, have grown to become significant employers producing innovative products for world markets. These companies sit alongside the cluster of blue chip international companies that operate from Shannon, which now includes Jaguar Land Rover.
"Shannon is now a key aviation and enterprise trailblazer with regional and national economic impact with a diverse and vibrant sectoral spread of industry leaders, who are not ready to sit on their laurels," he said.
Outlining how Shannon Chamber and a group of action oriented Chamber partners along the western seaboard from Kerry to Donegal, have set out to enable the entire western seaboard to contribute to economic growth, through the formation of an active working group, the Atlantic Economic Corridor (AEC), Mr Thompstone thanked the Taoiseach for the recognition the Government is giving to the AEC and acknowledged the Government's support for the concept.
"The AEC is now recognised by and actively engaged with multiple Government departments and agencies through the programme for Government and AEC Task Force established by the Minister for Rural and Community Development Michael Ring, TD.
"The vision of the business leaders involved is to double the population along the corridor and realise its potential through increasing the AEC's GDP to 3.5 times its current level. This will be achieved by the business and community partnership already in place with Government through the AEC Task Force. Working together to develop concept proposals and a sound evidence base will generate growth and development of the Atlantic regions through unique investment propositions of scale, based on the comparative advantages of places across the corridor," Mr Thompstone stated.
"Work is well underway to the attainment of these goals," he added.
"A panel of infrastructure specialists across the AEC has already completed a detailed evidence base on AEC infrastructure issues and opportunities. Another panel has developed a practical approach to re-purposing and development of property solutions for businesses in the Corridor, whilst a team of enterprise centres and agencies is working on the Innovation Foundry to generate a pipeline of entrepreneurs and enterprise.
"Commentary submitted by the AEC to the formulation of the National Planning Framework (NPF) has pointed out how, as a larger regionally distributed centre serviced by international and deep-water port facilities, third-level institutions and an established and growing industrial and business base, the Limerick-Shannon-Ennis-Galway linear city is one example of how the AEC is ideally positioned to accommodate growth and provide excellent quality of life."
Concluding his remarks with a focus on Shannon as a key town in the centre of the AEC, with a population of 10,000 and a workforce of over 10,000 people commuting daily into the Airport and Free Zone, Mr Thompstone pointed to a key piece of infrastructure missing from Ireland's first new town of the 20th century.
Shannon is Clare's second largest town; its economic impact far exceeds other towns of its size. It has a history of innovation and an ability to turn ideas into action, yet, as Mr Thompstone pointed out, it lacks a recognised town centre or heart and streetscape.
"Shannon needs a focal point for community, civic and creative activity," he added, whilst outlining plans, which have been supported and financially backed to date by the private sector, to develop a response to this glaring need, in the form of a multi-purpose civic, cultural and amenity centre called The Venue Shannon.
"We are at a key decision point with this project," Mr Thompstone added.
" Voluntary effort and private funding to the tune of €0.9 million – 98% from the private sector and the balance from Shannon Town Council – has delivered a turnkey project from concept to strategy to planning, with full planning permission already approved. The business and community of Shannon have shown the way through action with time and hard cash inputs. Government support at national or local level is the critical next step in moving the project forward.
"The completion of this multi-function community, civic and creative centre would be the innovation solution to drive Shannon forward. It would be part of a new beginning, in the same way as the new town concept was in the Lemass and O'Regan eras," Mr Thompstone concluded.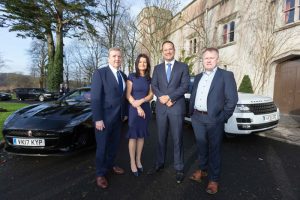 An Taoiseach, Leo Varadkar TD, welcoming Jaguar Land Rover to Shannon with (from left): Minister Pat Breen TD; Helen Downes, CEO, Shannon Chamber; and Paul Girr, chief engineer, Jaguar Land Rover. Photo: Eamon Ward.