Helen Downes, CEO, Shannon Chamber pictured at the S4 Sustainability Conference in Westpark Shannon with conference speakers (seated from left): Jim Dollard, executive director, generation & trading, ESB, conference sponsor, and Julie Sinnamon, council member, The Climate Change Advisory Council.
Back row (l-r): Damien Kilgannon, real estate director, Fine Grain Property (Ireland) Ltd; Lisa Vaughan, CEO, Tipperary Energy Agency; Paul Healy, CEO, Skillnet Ireland; Shane Geary, vice-president, manufacturing, and general manager, Analog Devices, Ireland; David Keating, director, plant and manufacturing technology, Ei Electronics; Eoin Gavin, president, Shannon Chamber; Barry O'Sullivan, chair, Shannon Estuary Economic Taskforce; Barry Gavin, chair, Mid-West Sustainability Forum; and Niall Dillon, managing director, global manufacturing and corporate facilities, Analog Devices International. Photograph by Eamon Ward
In deciding to commit a week-long focus to sustainability in business, Shannon Chamber set itself a tremendous challenge.
Seeking out sustainability experts in the four key areas that its newly formed Mid-West Sustainability Network is focusing on to transform the Mid-West region into the 'Greenest Industrial Region in Ireland' was no mean feat. Figuring out how to fund it to make it amenable for companies of all sizes, was equally challenging.
The call-out was responded to enthusiastically by the eighteen speakers who signed up to share their expertise at the 11 events held during this week-long event. A wide range of companies also rowed in to offer sponsorship support, including the Network's corporate sponsor, ESB, anchor sponsors Analog Devices, Ei Electronics, Eli Lilly, Climeaction and Element Six, and associate sponsors, Shannon Chamber Skillnet, GreenTech Skillnet, Heraeus, Local Enterprise Office (LEO) Clare, Enva and Fine Grain Property.
The highlight of the Mid-West Sustainability Week, a day-long conference, entitled The S4 Conference, chaired by sustainability professional Barry Gavin and hosted in Westpark Shannon, held the attention of attendees from commencement at 8am through to closing at 4.30pm.
This conference also included a 'street event, which involved 15 companies sharing 18 examples of sustainability projects they have undertaken to reduce their carbon emissions into the environment. The details of all projects were printed and displayed on A1-sized boards with the companies explaining the rationale and outcomes of their project to conference attendees.
Outlining the background to this inaugural Sustainability Week, Shannon Chamber CEO Helen Downes said: "Our decision to host a week of this nature has been described by our members as a brave and progressive step. It has helped to place sustainability and the four key themes that our Sustainability Network is concentrating on to the fore, namely – Waste, Water, Energy and Biodiversity.
"A key objective in the Chamber's strategic plan 2023 – 2026 is to create a platform to brainstorm and undertake initiatives that can enable Shannon and the region to play a meaningful role in Ireland attaining its climate action targets. Our goal is to position Shannon and the region as an exemplar contributor to sustainable development. The Sustainability Week and conference has set this in motion.
"The willingness of so many sustainability experts to share their deep-seated knowledge with companies was truly amazing. They have set a very high bar for subsequent conferences. Our follow-on week next year will go into planning stage immediately.
"The takeaways from the week were extensive. We will prepare a summary of the keynote messages from all eleven events in booklet format in the coming weeks to ensure that the many insights shared are available to all our members," said Ms Downes.
Jim Dollard, Executive Director, ESB Generation and Trading, said: "As Ireland's leading utility and largest energy provider, ESB has set an ambitious bold course of action to help Ireland achieve its climate action targets, by driving the transition to reliable, affordable, sustainable energy through our Driven to Make a Difference: Net Zero by 2040 strategy. It was great to see so many companies engaging in this event with the intention of developing their own sustainability strategies and roadmaps, as these will be critical to achieving Ireland's binding target to reach Net Zero by 2050. Collaboration will be key to achieving Ireland's sustainable Net Zero future so we were delighted to support Shannon Chamber of Commerce's Sustainability Week and Conference as these fora are critical in sharing best practices, driving momentum for change, and demonstrating how we can collaborate to achieve a brighter future."
Giving his reaction to the conference and the Sustainability Week, the chief executive of Fine Grain Property, Colin MacDonald whose company has invested €300million in providing 1.25million sq. ft. of workspace nationwide, including at Westpark Shannon, to accommodate 60 companies and their 7,000 employees nationwide, said: "This was a truly inspiring week, which demonstrated the willingness of companies in this region to collaborate to improve the environment. Reducing carbon emissions centres on the fundamental ingredient in initiating change, people. If we can change people's approach to sustainability, and foster collaboration, extraordinary progress will be achieved."
Thanking Shannon Chamber for taking the initiative to organise a week focused on sustainability, he added: "The Chamber team, led by CEO Helen Downes, are themselves like a renewable energy source, fuelling innovation and development in the region. In fostering collaboration of the level shown during the Sustainability Week, the Chamber is playing a meaningful role in helping to reduce Ireland's carbon footprint."
Giving a brief overview of the week, Ms Downes added: "International speaker, author and business advisor, Catherine Weetman, who helps people to use circular, regenerative strategies to help their business thrive set the week in motion on the Monday. She advised companies how to get started with the circular economy, and outlined why the smartest businesses are putting the circular economy at the heart of their strategies.
"Water came under the spotlight on the Tuesday, with presentations from Uisce Éireann's Christine Crawford, and Steve Brown, lead tutor on Uisce Éireann Water Stewardship Programme. Attendees were encouraged to sign up for the Water Stewardship Programme to analyse, monitor and improve their use of water in their facilities.
"ESB Smart Energy Services lined up three excellent speakers on the energy-focused day on the Wednesday. Justin Wheatley, energy management hub engineer, Colm O Callaghan, customer solutions manager, and Calin Tasnadi, senior mechanical engineer, heat pump systems design, covered three key considerations in attaining energy efficiency – measuring, monitoring and attaining energy efficiency, behind the meter solutions including solar PV, roof-mounted and ground panels, and the benefits accruing to heat pumps.
"We turned our attention to the outdoors on day four, the Thursday, when biodiversity was centre stage. Natural Capital Ireland's Lucy Gaffney, who is leading the development of a national business and biodiversity platform, an initiative funded by the Government, focused on why companies need to develop meaningful biodiversity strategies that are based around the elimination or mitigation of industrial impacts on the natural world.
"Sarah Kelly, from the National Biodiversity Data Centre, encouraged companies to sign up to the All-Ireland Pollinator Plan, an 'entry level' to biodiversity on any site and in any garden. This call was endorsed by The Shannon Airport Group's head of sustainability, Sinead Murphy, who joined Sarah to give examples of the many initiatives the Group has delivered in its drive to become a biodiversity friendly airport and business campus.
"All of the above naturally led into the final day's conference, which was supported by ESB and hosted in the amazing setting of Westpark, giving visitors to the region an insight into the standard of buildings and infrastructure available to companies operating from Shannon. As with the events throughout the week, we will be preparing a summary report on the learnings and takeaways from the S4 Conference," added Ms Downes.
Conference speakers included:
Niall Dillon, Managing Director, Global Manufacturing and Corporate Facilities, Analog Devices International
Shane Geary, Vice-President, Manufacturing, and General Manager, Analog Devices, Ireland
Damien Kilgannon, Real Estate Director, Fine Grain Property (Ireland) Ltd.
David Keating, Director, Plant and Manufacturing Technology, Ei Electronics
Jim Dollard, Executive Director, Generation & Trading, ESB
Lisa Vaughan, CEO, Tipperary Energy Agency
Barry O'Sullivan, Chair, Shannon Estuary Economic Taskforce
Paul Healy, CEO, Skillnet Ireland
The keynote address was given by Julie Sinnamon, Council Member, The Climate Change Advisory Council.
The inaugural Sustainability Week was organised by Shannon Chamber as a key initiative of its member-led Mid-West Sustainability Network.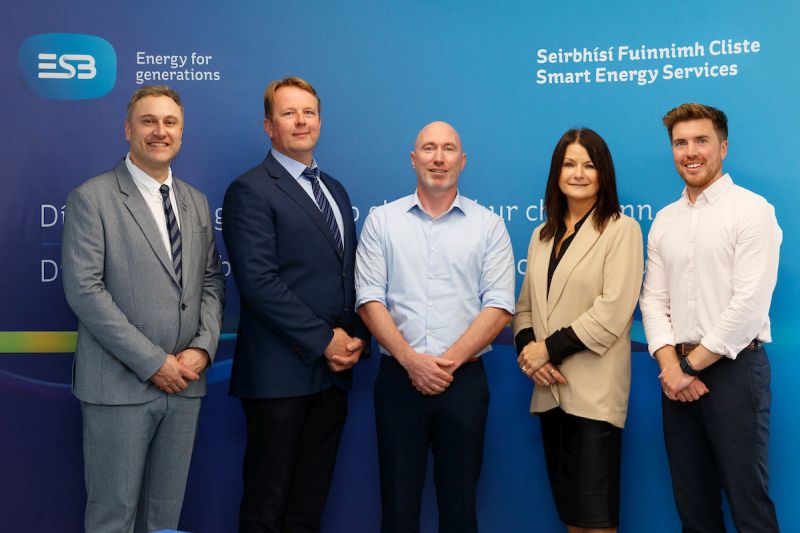 Pictured at the ESB briefings on energy sustainability, held in Zimmer Biomet as part of Shannon Chamber's Sustainability Week, (from left): Justin Wheatley, energy management hub engineer, and Calin Tasnadi, senior mechanical engineer, heat pump systems design, ESB's Smart Energy Services; Tom O'Carroll, director manufacturing Ireland, Zimmer Biomet; Helen Downes, CEO, Shannon Chamber; and Colm O' Callaghan, customer solutions manager, ESB's Smart Energy Services. Please Credit Photograph by Eamon Ward.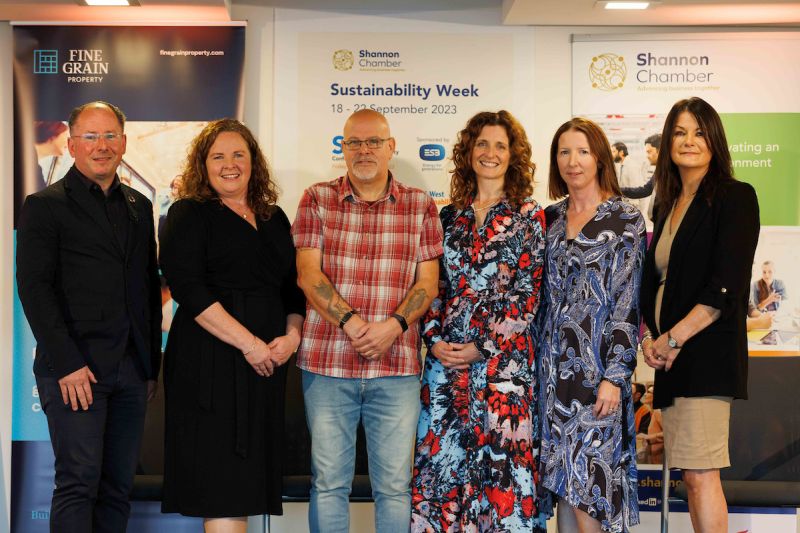 Pictured at the S4 Conference (from left): Barry Gavin, chair, Mid-West Sustainability Network with committee members Elaine O'Connell, EHS engineer, Analog Devices Limerick; Steve Gorvel, engineer and facilities manager, Element Six; Sinead Murphy, head of sustainability, The Shannon Airport Group; Carol Walsh, director, water services, Enva; and Helen Downes, CEO, Shannon Chamber. Photograph by Eamon Ward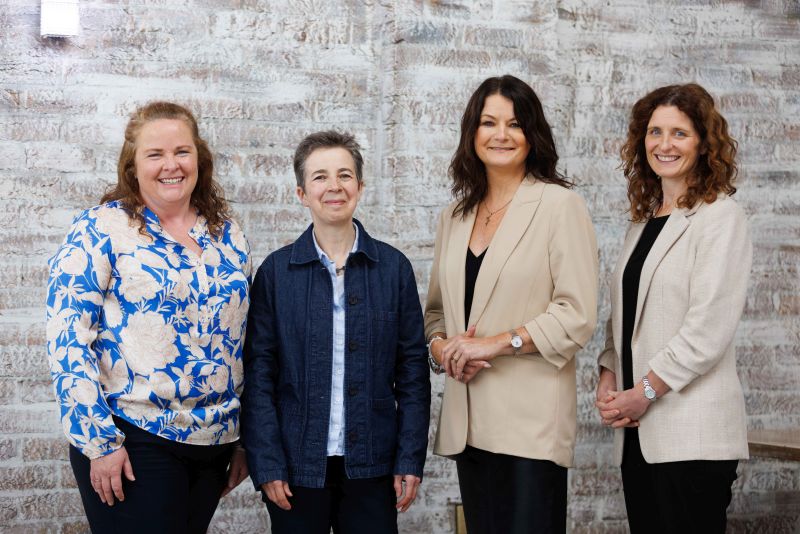 Catherine Weetman (second left), circular economy author, speaker, advisor and coach, presenter at the opening event in Shannon Chamber's Sustainability Week, sponsored by ESB, which focused on the circular economy (from left): Elaine O'Connell, EHS engineer, Analog Devices Limerick; Helen Downes, CEO, Shannon Chamber; and Sinead Murphy, head of sustainability, The Shannon Airport Group. Photograph by Eamon Ward