Shannon Chamber is extending its events calendar into local schools by hosting its first-ever apprenticeship evening in St Patrick's Comprehensive School in Shannon where six companies will outline the types of apprenticeships available and what students need to do to enrol for them.
The event, which takes place next Wednesday, 14 March, was the brainchild of the teachers in St Patrick's Comprehensive who felt that many students would prefer to take this route to employment rather than going straight to College. Once approached with the idea, Shannon Chamber acted swiftly and engaged with local companies to assess their interest in participating.
Six companies – Modular Automation, Zimmer Biomet, Molex, Atlantic Aviation Group, Element Six Group and Lufthansa – answered the call and representatives from each company will attend the event to outline the types of apprenticeship they have on offer. Some of the speakers will be apprentices and will share their own stories of what they like about this route to employment.
"We were delighted to be approached to organise an event of this nature," says Helen Downes, CEO of Shannon Chamber.
"While it is being held in Shannon, it is open to schools from throughout the region and we would invite students and their parents from as many schools as possible to attend, meet the companies and their apprentices and see if this is a career direction they would like to consider.
"For example, there are ongoing opportunities in Molex, who continue to recruit apprentices for manufacturing engineering, tookmaking, mechanical automation and maintenance fitters and industrial electrical engineering. Zimmer Biomet currently has 8 manufacturing technical apprentices across its Irish sites and, the 2016 and 2013 WorldSkills champions have completed their apprenticeships at Atlantic Aviation Group. This is an example of the opportunities available in Shannon companies to join an apprenticeship programme," added Ms Downes.
Manager of the Mid-West Regional Skills Forum, Joe Leddin, will also present at the event, With talent availability now the number one determining factor for companies in deciding expansion or location strategies, the Reginal Skills Fora have a key role to play in the development of apprenticeship programmes across all industry sectors and a doubling of the number of apprentices to assist companies build their talent teams.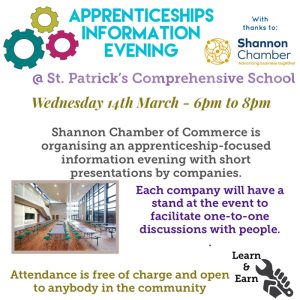 Representatives from the Limerick and Clare Education and Training Board will also attend.
Advance booking for this apprenticeship evening is essential. This can be done via Shannon Chamber's website www.shannonchamber.ie/events-training is essential. This is a free event and open to all.