Mid-West Lean Network chairman Claude Costelloe, operations director with Zimmer Biomet (centre) is pictured with (from left): Robert Hernan, Enterprise Ireland; Shane O'Neill , Atlantic Aviation Group; Cillian Griffey, Shannon Chamber Skillnet; Helen Downes, Shannon Chamber; John Mulleady, AiP Thermoform Packaging; Padraic McElwee, LEO Clare and Senan O Riain, IDA Ireland, presenters at the lean workshop in the Atlantic Aviation Institute. Photograph by Eamon Ward
New Continuous Improvement Award Launched by the Mid-West Lean Network
A new award – The Mid-West Lean Network Continuous Improvement (CI) Award – has been launched by the Mid-West Lean Network to recognise, encourage and support organisations who are pursuing continuous improvement to achieve business excellence. The award is open to organisations in any sector who are at the early stages of their CI journey and who are a member of the Network.
Announcing the award, Mid-West Lean Network chairman Claude Costelloe, operations director with Zimmer Biomet said: "The Network has gained a lot of momentum since it was established in late 2016 at the instigation of Shannon Chamber. We now have a membership of over 65 companies, many of whom have introduced lean concepts into their businesses; however, we want more companies to understand and see the value and payback from becoming lean, hence introducing this award. It will incentivise companies to consider lean."
To enter the awards, a company simply has to submit their proposal on an agreed template, outline the project they are working on, the tools being used and the benefit to their organisation. An evaluation panel will undertake on-site visits and review each proposal; three companies will be shortlisted and the overall winner will be announced at the annual Mid-West Lean Network Conference in November.
"This is a wonderful opportunity for companies to showcase their CI endeavours and to get recognition for their organisation," said Mr Costelloe.
The launch of the award coincided with the Network's first seminar of the year, which was held in the Atlantic Aviation Institute in Shannon and focused on starting the lean journey. Zimmer Biomet's director of operational excellence Ger Grace and John Mulleady, managing director of AiP Thermoform Packaging, Ennis shared their experiences with lean.
"There has to be a business intention to get started on lean," emphasised Grace.
"Companies need to question why they need to become lean and what they need to improve. The how to do it will fall into place quite easily once this burning platform is evident," he added.
Having attended most of the Network's workshops in 2017, it was only a matter of time before AiP Thermoform Packaging's managing director John Mulleady would steer his company towards adopting lean.
"The biggest barrier to starting the process was myself. After eighteen years in business I thought we had nothing to improve but once we started our lean journey, I soon learnt that, as MD, I was paying for the waste. I was just not sensitive to the need for change until we got involved and started to evaluate our business process to identify non-value-added activities. They were the source of our waste," he said.
Improved cash flow, greater customer satisfaction and finished goods moving faster through the warehouse have been the initial benefits to AiP since starting its lean journey, which is being supported by the Clare Local Enterprise Office (LEO).
The range of financial supports available from Clare LEO, Enterprise Ireland and IDA Ireland were outlined at the workshop and attendees were encouraged to avail of this support and the ongoing mentoring available through the Network as they commence their projects in a bid to become the Mid-West Lean Network Continuous Improvement Award recipient in November.
Further information on the Mid-West Lean Network Continuous Improvement Award is available from admin@shannonchamber.ie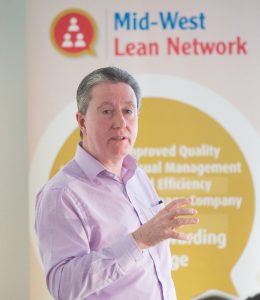 Photograph by Eamon Ward
Mid-West Lean Network chairman Claude Costelloe, operations director, Zimmer Biomet.