With the highest concentration of US investment in a single location outside Dublin, Shannon can play a key role in counteracting the growing economic imbalance that is now clearly evident between the greater Dublin area and the west of Ireland. That was the view of Shannon Chamber president Kevin Thompstone, when he addressed 300 business people at the Chamber's annual President's lunch in Dromoland, Co Clare today (Monday, 24 November 2014), where An Taoiseach, Enda Kenny T.D. gave the keynote address.
Speaking at the lunch, An Taoiseach said: "Getting the country working again is the Government's number one priority.  Seventy thousand jobs have been created since we launched the Action Plan for Jobs.  We are on course to exceed our initial target of 100,000 new jobs by the end of next year.  Another jobs announcement today in Ennis shows that new jobs are being created across the country and not just in Dublin. The recent Budget was designed to secure recovery further – promoting new jobs and investment in the regions, working across the economy and across the country with businesses like those represented here today.  I am confident that the growing recovery of Ireland's economy will have a positive impact on the Shannon Region."
Welcoming the Government's support  for Shannon, particularly the decision to enable Shannon Airport operate as an independent entity, as part of the recently established Shannon Group, Mr Thompstone said that the risk of doing so is paying off with the evidential addition of new air services and increasing passenger numbers.
"This clearly shows that Shannon's proud tradition of innovation and achievement in business circles continues to attract positive global attention," he added.
Describing Shannon as a 'Special Economic Zone', a term widely used in China and the Middle East for areas of economic activity that encompass an airport/port, a high concentration of industry in a range of sectors, which Shannon has; a gateway town with a population of over 10,000; and a workforce of similar proportions,  Mr Thompstone said the constant reinvention and diversity of these clusters has enabled Shannon manage economic ups and downs in one sector through balancing growth in others.
"Shannon is now well placed to build on this, contribute to regional and national economies, and provide a counterpole to the high concentration of activity on the east coast.
"A strong policy direction from government to the investment promotion agencies is now needed to drive this forward.
"Our vision, plans and actions for the future are centred on a triangle of key features that Shannon brings together in one geographical space – an airport, clusters or economic activity in a range of sectors, which Shannon has, and a place to live and enjoy a range of world-class tourist attractions.  Plans are well underway to deliver a new multi-functional Civic and Arts Centre, The Venue, for Shannon, with strong backing and investment from the local business community.
"Business people have clearly shown their willingness to add to Shannon's cultural infrastructure to ensure the area is not only a good place to work, but also to live. We now need to look towards ensuring that other key infrastructural deficits are addressed," he added.
Commending the government for delivering the Newlands Cross flow-over, Mr Thompstone suggested the same focus is now required to deliver the Atlantic transport corridor, not just the Tuam to Galway link but a motorway connecting Limerick to Cork with resultant free flow from Cork on to Limerick, Clare, Galway, Mayo, Sligo, Donegal and Derry and all the way to Belfast.
"Addressing critical transportation deficiencies will ensure that the road to recovery is not only in one direction, towards Dublin," Mr Thompstone concluded.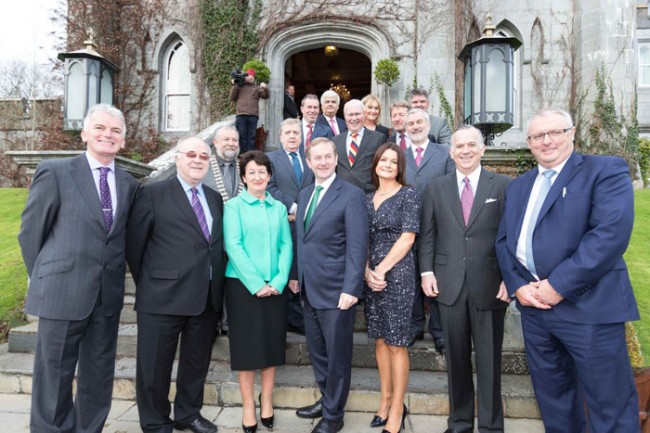 An Taoiseach Enda Kenny T.D, with (front row) l-r: Kevin Thompstone, president, Shannon Chamber; Tony Brazil, Shannon Region Conference and Sports Bureau; Rose Hynes, chairman Shannon Group plc; Helen Downes, chief executive, Shannon Chamber; Tom McInerney, chief executive, Genworth Financial Inc; Bob Brannock, president, international protection, Genworth. The Mayor of Clare, John Crowe; Pat Breen T.D; Kieran Mulvey, chief executive, Labour Relations Committee and members of the business community from Grant Thornton, Laya Healthcare, Metis Life, Glass Box Events, Dromoland Castle and Shannon Airport were also on hand to meet An Taoiseach at Shannon Chamber's president's lunch. Photo: Eamon Ward.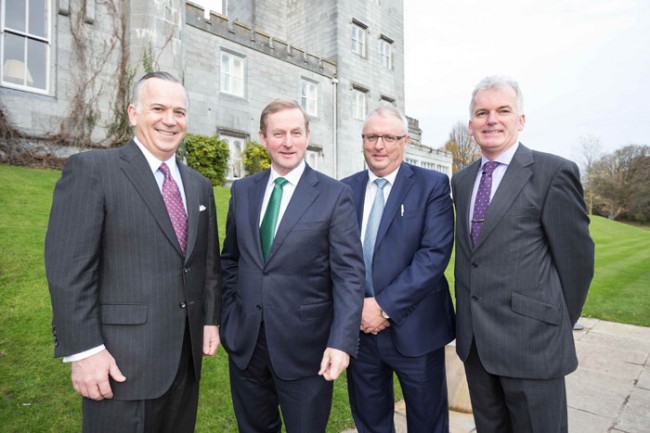 An Taoiseach Enda Kenny T.D., pictured at Shannon Chamber president's lunch at Dromoland Castle with (from left): Tom McInerney, chief executive, Genworth Financial Inc; Bob Brannock, president, international protection, Genworth; and Kevin Thompstone, president, Shannon Chamber. Photo: Eamon Ward.