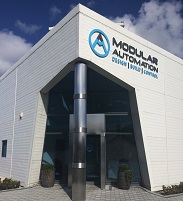 Modular Automation grows from strength to strength and announces a €2 million expansion plan with 30 new jobs for its facility in Shannon
Modular Automation is delighted to announce a €2 million expansion plan to facilitate the growth of our facility in Smithstown, Shannon.  This project will result in the delivery of a state of the art Automation Innovation Centre and will result in the generation of 30 high skilled positions.  The new centre will deliver best in class automation and robotics solutions for Modular Automation's growing customer base.
This investment announcement demonstrates Modular Automation's continued strong commitment to the Shannon region.  Every machine developed by Modular Automation is designed, built and tested at their Shannon facility. Modular are currently operating from a 25,000 sq. ft factory at Smithstown Industrial estate in Shannon, the expansion will add an additional 22,000 sq. ft.
The additional jobs are being supported by Enterprise Ireland. Construction is expected to commence in May with final completion in late 2015 (subject to planning).
Commercial Director, Martin Dolan, adds
"Our business is experiencing incredible growth, in the last 2 years we grew our team by 50%,  and we now employ 94 people.We want to maintain this momentum and to support this we plan to recruit a further 30 high skilled engineering positions over the next 2 years. It has been a busy month for us, we were delighted to be named as one of the Ireland's 'Best Managed' companies in the Deloitte Best Managed Companies Awards Programme which was held in Dublin on March 6th"

Modular Automation are currently recruiting and have a number of exciting opportunities ranging from apprenticeships to junior and senior level engineering roles.  http://www.modularautomation.ie/index.php/careers
Modular Automation Profile
Modular Automation is an Irish company who design, build and control automated equipment for some of the world's largest and most reputable medical device and ICT companies. We have been delivering high-tech, high-value bespoke and build to print solutions for advanced manufacturing environments from our base in Shannon since 1986.
Chosen as one of the Best Managed Companies in Ireland by Deloitte, we pride ourselves on our proven ability to deliver innovative solutions to complex automation projects in close collaboration with our customers.
Every machine developed by Modular Automation is designed, built and tested in Shannon.  We support our customers on the automation journey as they transition from manual processes to more sophisticated and smart methods of manufacturing that ultimately drive productivity and business efficiencies.