Schools compete in inaugural competition focussed on generating greater awareness of estuary and role of Shannon Foynes Port Company in economy
Minister Jan O'Sullivan presents award to winners St. Patrick's Comprehensive, Shannon who beat off Kerry and Limerick schools to title.
Monday, 09 February 2015:  A deepening of the understanding of port activity on the Shannon Estuary and its contribution to the economy was played out today in Foynes as St. Patrick's Comprehensive School, Shannon won the inaugural Shannon Foynes Port Company (SFPC) Transition Year Schools Competition.
Titled 'The Importance of Ports in the Mid-West', the competition was held to spread greater awareness amongst students in the estuary counties of Clare, Kerry and Limerick of the pivotal role that the estuary and ports play in the life of the region and their function in a modern economy.
Some 34 schools across the three counties took part in the competition, with five shortlisted for today's final, held at the Flying Boat Museum in Foynes, at which they delivered enlightening ten minute presentations before a 300 strong attendance.
The finalists were Causeway Comprehensive, Co. Kerry; St. Patrick' Comprehensive, Shannon; Scoil Mhuire agus Íde, Newcastle West, Co. Limerick; CBS Sexton Street, Limerick City and Salesian College, Pallaskenry, Co. Limerick.  The judging panel comprised Helen Downes, CEO of Shannon Chamber; Captain Jim White, retired harbour master at SFPC; Frank Lynch retired company secretary at SFPC and Martin Morrissey, Commercial Manager, SFPC.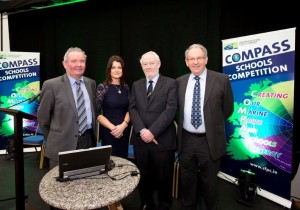 The winners were presented with their medals plus a €2,000 cheque for their school and an ipad for each team member, all sponsored by SFPC, by Minister of Education Jan O'Sullivan, who said that the competition will help generate greater awareness of the pivotal and largely underestimated role that SFPC and the estuary plays in people's lives across the region.
"I think everyone in the room today, outside of those from the Port Company itself of course, learned a lot more about the port and estuary than they probably knew before.  The competition shed a light on the incredibly dynamic role that the port company and this amazing estuary plays in everyone's life in this region and further afield.
"To see the cooperation between SFPC and the schools in the region was fantastic.  We often talk about a thing called 'engaged learning' and we see engaged learning in action here today. This type of competition really helps expand our knowledge of things we have in our own neighbourhood, things we can take for granted on our own doorstep.  The students really gave us a sense of the complexity of the estuary, its huge economic potential."
The winning school, Shannon Comprehensive, devised a booklet for primary schools that gives the younger students – through games, quizzes and other learning tools – a greater understanding of the estuary and port company's activities.
Said team member Sinead Quinn, "We really had no idea how important SFPC is. Many of us live just five miles from Shannon Airport and we never even knew there was a fuel jetty there.  That's just the tip of the iceberg. When we started this project we really didn't know anything about SFPC or the Estuary but now we know just how much of a role it plays in our lives on a day to day basis that we simply never understood."
Said School Principal Morgan Heaphy, "This is a fantastic achievement for the students and all the hard work that they put in throughout the competition.  It certainly gave them a greater understanding of the amazing resource that the Shannon Estuary is and how SFPC plays a key role in making it work for all our benefit."
SFPC Chairman Michael Collins said that the competition had delivered on its objectives:  "Probably a key aim of SFPC in holding this competition was to ensure that we increase the awareness of this very substantial port and its activities, not just in how it contributes to thousands of direct and indirect jobs but how it touches every aspect of our daily lives. We would not have a functioning society were it not for SFPC."
Tribute was also paid to organisers Evelyn Adams and Hugh Conlon, of SFPC, for their role in putting the competition together, liaising with the schools throughout the four month programme and putting arrangements in place for today's final.
Said SFPC CEO Pat Keating, "It has become obvious to us that the greater public and many of our stakeholders, such as national and regional policy makers, do not understand the full potential of the Port. So we decided that it was necessary to change this.  We have an excellent story to tell and we need to tell it.
"There are many ways to do this and one was this school competition. It is very important that business contributes to the local community and it does by creating employment and other ancillary benefits. However it needs to do more.  Simply put, the more awareness of the importance of a piece of infrastructure such as the Port, the more support it will get from the public and policy makers."
Ends
For Further Information:
Evelyn Adams                                                                                Captain Hugh Conlon
Schools Coordinator                                                                    Community Liaison Officer
eadams@sfpc.ie<mailto:eadams@sfpc.ie>                                                                           hconlon@sfpc.ie<mailto:hconlon@sfpc.ie>
069 73102                                                                                      069 73110