Stephen O'Flaherty, director, Corporate Finance and Recovery, BDO: Carol Lynch, partner, BDO Customs and International Trade; Helen Downes, CEO, Shannon Chamber; and Maurice Carr, partner, BDO addressed the Planning for Brexit seminar in Shannon. Photograph by Eamon Ward
Whilst the details of Brexit may not yet be known, or its implications fully understood, companies need to start developing a robust strategy for the impact its new trading arrangements will have on their operations. This was the clear message emanating from a seminar held in Shannon this week (Tuesday, 13 February), organised by Shannon Chamber and presented by BDO Dublin and Limerick.
Presenters Stephen O'Flaherty, director, Corporate Finance and Recovery, BDO was joined by his colleagues Carol Lynch, partner, BDO Customs and International Trade, an expert in customs and trade issues and Maurice Carr, partner, BDO whose specialty is recruitment and talent management, in encouraging over 60 attendees to develop a robust strategy for dealing with Brexit and build scenario planning, including risk management, into their business plans.
"The one certainty around Brexit is that once Britain leaves the EU it will be a third country requiring exporters and importers to make declarations and pay customs duties," said Ms Lynch. She went on to confirm that this has also been provided for by both the UK Authorities and the EU Commission and updates issued by way of press releases from both authorities.
"Regardless therefore of the potential cost of tariffs, this will involve costs for customs compliance and costs associated with delays at borders," she added.
"Companies need to start analysing their supply chains and assess where or how they can make changes to alleviate such costs. There is no better time to start doing this than now as it can take months to understand supply chains," she said.
With the current twelve-month window to plan, Ms Lynch advised attendees to start reviewing their supply chains, assess the cost of duties, identify tariff headings, and assess the requirement for duty saving procedures.
Giving a recruiter's perspective on the recruitment and talent management challenges and opportunities associated with Brexit, Maurice Carr, partner with BDO, said: "With over 2,000 people living here and working in the UK; 300,000 Irish living and working in the UK; 280,000 British living and working in Ireland; and a significant number of Irish companies with UK operations and UK companies with Irish operations, the main impact will be linked to the free movement of people and the requirement for work permits or visa delays and restrictions, which would make it difficult to recruit and retain.
"Changes in employment law and regulations and some negative impact on employment growth due to uncertainly and loss of confidence and the dragging out of the process, can be expected, and we may witness some movement of staff out of sectors that may be impacted negatively or back to the UK," he added.
Mr Carr did highlight the positives accruing to Ireland being the only native English-speaking country in the EU such as the attractiveness of Ireland as a European base for international companies and for UK companies wishing to maintain a presence in the EU.
"Jobs will also be created by the administration required to manage the changed circumstances necessitated by Brexit and the increased demand for professional services," he added.
Commenting on the value of an event of this nature, particularly when there is still uncertainty about the precise details of Brexit, Shannon Chamber CEO Helen Downes said: "Uncertainty should not be an excuse for doing nothing. There will be challenges and opportunities and, as evidenced by the commentary today, now is the time to start planning and preparing for the inevitable change Brexit will bring."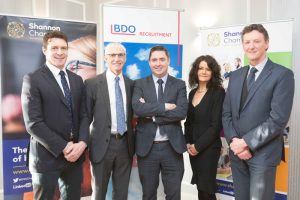 Pictured at the Planning for Brexit briefing (from left): David Wallace, regional business development manager, Bank of Ireland; Maurice Carr, partner, and Stephen O'Flaherty, director, Corporate Finance, BDO; Helen Downes, CEO, Shannon Chamber; and Tommy Lenahan, senior manager, AIB Business Banking. Photograph by Eamon Ward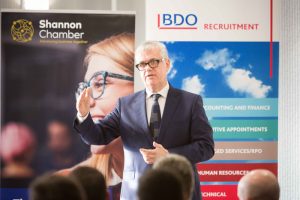 Con Quigley, Corporate Finance Partner at BDO – venture capital and valuations specialist. Photograph by Eamon Ward