Business leaders share team tactics at Shannon Chamber President's Lunch in Dromoland Castle Hotel (l-r): Sean Flannery, executive vice president technical, GECAS; Julie Dickerson, president, Shannon Chamber; Michael Ryan, Tipperary hurling manager; and Helen Downes, chief executive, Shannon Chamber. Photo: Eamon Ward.
Three dynamic leaders from the worlds of business and sport took to the stage at Shannon Chamber's President's Lunch in Dromoland Castle Hotel to be quizzed by broadcaster Seamus Hennessy on all things leadership.
Daring to venture into Clare territory, Tipperary hurling manager Michael Ryan, joined GECAS general manager Sean Flannery and Julie Dickerson, Shannon Chamber president and managing director of Shannon Engine Support, to offer open and frank opinions on a range of issues concerning leadership such as: whether it's innate or learnt; traits lacking in leaders today, driving success in a business or for a team, leadership styles, promoting leaders from within, maintaining motivation and inspiration when faced with obstacles or disappointment, choosing team members and handling rejection.
The lunch, which was attended by in excess of 200 business people, was sponsored by GECAS and supported by Dromoland Castle Hotel, Snap, Career Decisions Ireland, Molex, Fáilte Ireland and Willis Towers Watson.
Describing his role with the Tipperary team as probably one of the few great things he will do in his life, apart from looking after his wife and raising his kids, Michael Ryan said that leading a team of volunteers, who have a calling to be part of their county team, is very different to leading a team in business.
"You have to help them grow and learn; you have to shape and direct them, particularly newbies who come into the team at nineteen and are very nervous at the start. A sport's manager's leadership style is ever evolving and is very much tailored for the individual and his needs."
Drawing parallels between business and sport he said that, in both, the leader has to create an environment where everyone buys into the culture and understands the process.
Whilst not relying on reading material to improve his own leadership style, he looks instead at those who he believes are doing it right, particularly the All Backs, whose humility greatly impresses him.
Describing the traits of a good leader as unifying, organising, guiding, and emotional intelligence, GECAS' Sean Flannery said that a leader must always put him/herself in the shoes of his team members and if anyone should go offside, then it's up the leader to understand what's forcing that behaviour.
With so much data coming in all directions today, Flannery believes that being a leader in today's fast-paced environment involves continuously looking at one's own style, taking in new learning and keeping the message simple and on point.
Being in the minority as a female leader of a global organisation, SES' Julie Dickerson said she always wanted to sit at the table to make decisions but she had to learn how to make that work. Describing her leadership style as consensus-driven and facilitative, Ms Dickerson encouraged fellow CEOs to make space to read some of the vast new management literature available: "It forces you to reflect and look at your own style," she said.
All three concurred that leading a multinational company is very different to leading an SME.
"In an MNC you have shareholders and a culture to work to; in an SME you're a 'Jack of all trades' and have to push the business. The bonus of leading an SME is that you have everyone within reach as the company grows whereas in an MNC, a leader faces big commercial challenges. The rudiments of leadership are nevertheless the same," they added.
Shannon Chamber chief executive Helen Downes described all three speakers as truly inspirational and the moderator, Seamus Hennessy, as excellent in drawing the best out of the panel.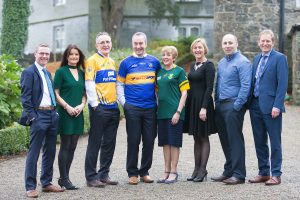 Shannon Chamber president, decked out in her native team colours of South Africa is pictured at the lunch with Sean Flannery (Clare supporter), Michael Ryan (Tipperary) and lunch sponsors (from left): Stephen Twomey, Willis Towers Watson plc; Miriam Magner Flynn, Career Decisions, Neil Enright, Molex and Martin Golden, Snap, Limerick. Photo: Eamon Ward.