Helen Downes, chief executive, Shannon Chamber pictured at the Mid-West Lean Network conference in the University of Limerick with (from left): Gavin Sheehan, chair of the Network; keynote speaker Peter Cosgrove and Ronan Keogh, Fine Grain Property. Photo by Eamon Ward
The changing face of work was the topic of the day at the Mid-West Lean Network conference held in the University of Limerick last week. Keynote speaker, future of work specialist Peter Cosgrove, enthralled the audience with his fast-paced review of the world we live in, the changes that are evident today and more so, what to expect in the future.
Products that took three years to deliver can now be produced in three days using digital printers and artificial intelligence will become the silent killer of jobs, he said, before cautioning that the speed of change is frightening.
"While it may have taken airlines over fifty years to gain 50 million users, some online companies can now do that in nineteen days and it won't be long until that can be reduced to one day, given that technology companies now do everything. Amazon started out as a bookstore and is now an 'everything' store," he added.
The event, which was organised by Shannon Chamber with the support of Fine Grain Property, drew speakers from Analog Devices, AMCS, Vitalograph Group and Element Six with all presenters sharing insights into how their company is positioning itself and using lean processes to future-proof their business.
Analog Devices' technology manager Michael Morrissey, giving an overview of the company's new Catalyst centre in Raheen, Limerick, said this represents a step change in ADI's approach to innovation.
"As a state-of-the-art collaboration accelerator, ADI Catalyst will enable customers, business partners, and suppliers to engage with ADI's expert technologists to rapidly develop industry-leading solutions. ADI is investing €100 million in this 100,000 square foot custom-built facility which will focus on the development of software-enabled solutions and artificial intelligence (AI) innovations in areas such as Industry 4.0, sustainable energy, automotive electrification, and next generation connectivity," he said.
AMCS' global quality and engineering manager Suzanne Fehily, zoning in on digital transformation said that as the future will be driven by digital and there is no finish line with digital, companies need to get their 'digital house' in order.
"Digital transformation will offer improved efficiencies, enable companies to meet changing customer expectations, improve new product quality and reduce product development costs," she said.
Vitalograph Group chief executive Frank Keane shared the success story of how the company reshored its supply chain from China to Ennis in County Clare, a decision which was influenced by the increasing costs of getting product made and shipped from China.
"An investment of €4million in converting an existing warehouse to house three moulding machines and build three assembly machines has resulted in the company significantly reducing its overheads and carbon footprint," he said.
Examining where hybrid working and lean thinking intercept, Element Six's human resources manager Mary Lynch said that in-person time for teams is essential to gain and transfer tacit knowledge.
"Knowledge sharing is so important in lean," she said.
"Water-cooler conversations cannot be replicated in a Teams' meeting and while new hires may want hybrid, a key challenge for companies will be how to balance working arrangements across the entire organisation.
While the balance of power may have shifted, leadership and culture are now more important than ever in the work environment," she added.
This leadership were very evident when employees from 5 companies (Atlantic Aviation Group, Analog Devices, Berka Solutions, Cook Medical, Edwards Lifesciences, and Zimmer Biomet), showed how, through using a lean problem-solving methodology known as A3, they solved a specific operational problem within their companies.
All A3 boards were explained in detail to attendees who then voted on the best project on display, with Cook Medical emerging as the recipient of the 2022 A3 Storyboard Street Event award, sponsored by LBS Partners.
Speaking at the event, Enterprise Ireland's regional director, Mid-West, Jerry Moloney, said that companies that are availing of the organisation's Lean Start programme are saving at least €50,000 per annum whilst those using Lean Plus are saving €150,000 and their businesses are becoming more competitive with quality up 30%, sales up 40% and productivity up 20%.
Shannon Chamber CEO Helen Downes, commenting after the event said: "There were so many takeaways – success can be a sleeping pill so keep innovating; digitalisation is king; keep sub-supply local and engagement and consultation in a hybrid working environment is vital as good workers will be good wherever they are."
The Mid-West Lean Network conference, held in the Analog Devices building at the University of Limerick, was sponsored by Fine Grain Property, co-sponsored by LBS partners, Wrxflo, and Shannon Chamber Skillnet and delivered in collaboration with Enterprise Ireland and IDA Ireland.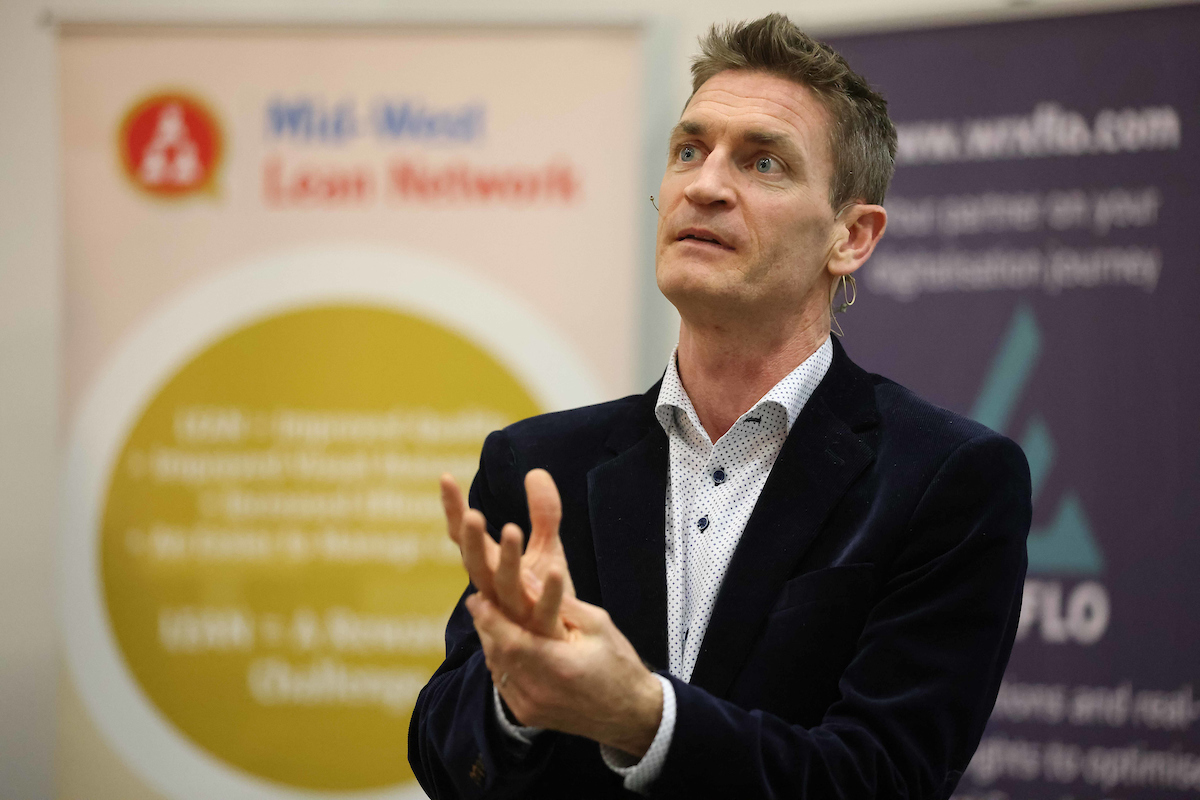 Future of work specialist Peter Cosgrove addressing the Mid-West Lean Network conference in the University of Limerick. Photo by Eamon Ward.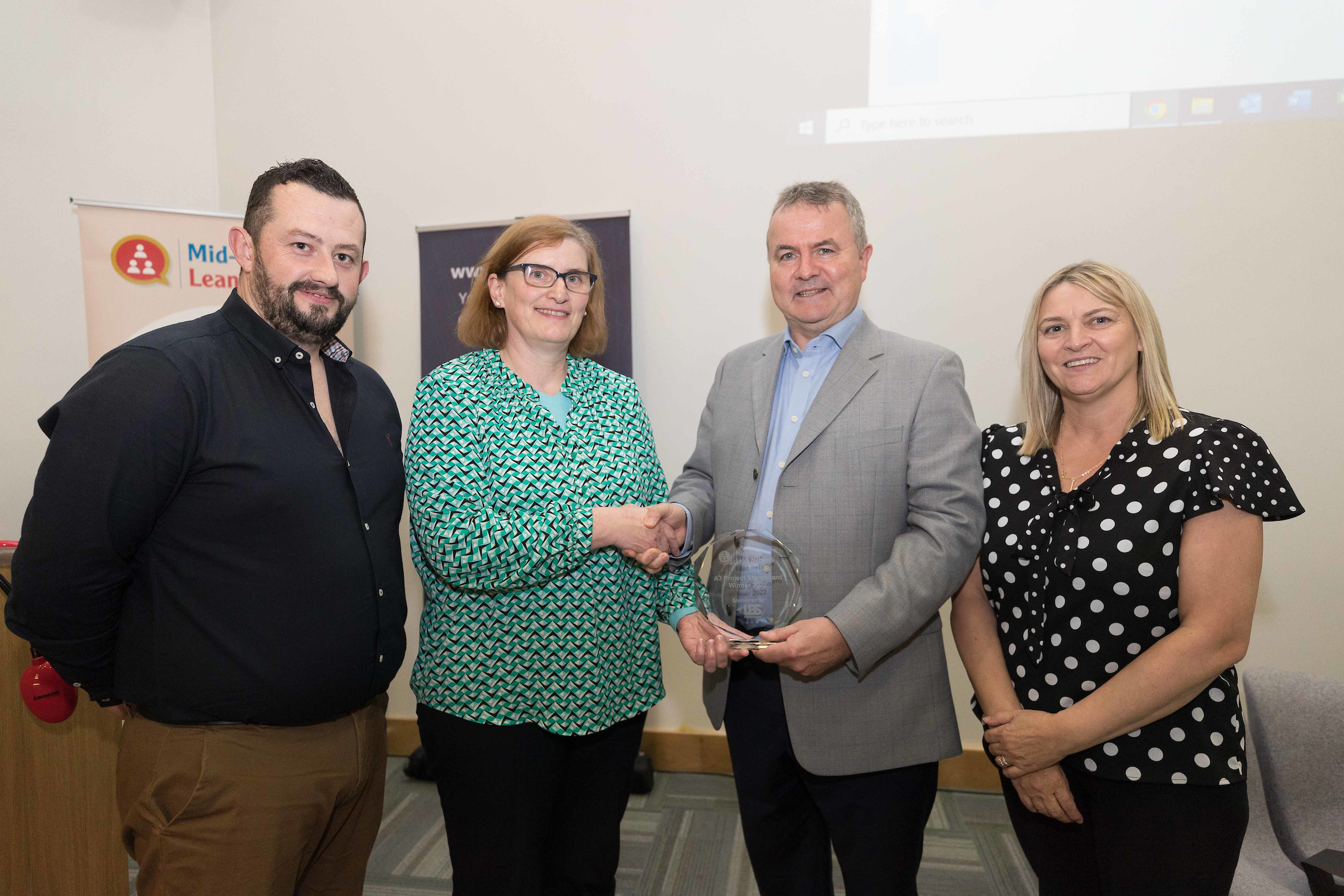 The Cook Medical team, Mark Fitzgerald, Teresa Maher and Louise Murphy, winners of the 2022 Mid-West Lean Network A3 Storyboard award receive their award from Vincent Leonard, LBS Partners, award sponsor. Photo by Eamon Ward.