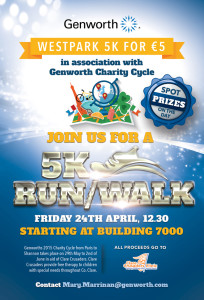 Shannon Chamber would like to draw your attention to a possible slight disruption to traffic at Shannon Free Zone this Friday, 24 April, between 12.30pm and 13.30pm.
Genworth will be sending teams of runners and walkers on a 5k run/walk from their Westpark facility around the Free Zone during this one-hour interval.
While volunteer marshalls have been called in to control the event and ensure the safety of all runners and walkers, and great consideration has been given to cause as little disruption as possible to traffic, we would ask you to accommodate any slight delay you may encounter and to give way to these 'business athletes' where necessary.
Genworth apologises in advance for any inconvenience this may cause on the day.
We thank you in advance for your kind cooperation.