With the Gender Pay Gap Information Bill, 2019 currently in the process of being enacted, companies need to pay more attention to the pay gaps that exist between males and females in their organisations. This was the stark message that Sonya Boyce, director of HR Consulting in Mazars gave to a gathering of Shannon Chamber member companies at a recent seminar in Shannon.
The seminar was organised to give companies a greater appreciation of how they should be preparing for the level of reporting that will be required once the legislation is passed.
Given that Ireland witnessed a 2% increase in its gender pay gap from 12% to 14% between 2014 and 2017; that this figure is above the European average of 16% and will continue to grow without legislative intervention; that only 19% of chief executive positions in Ireland are held by women and; that women represent only 13% of boards of management for Irish listed companies, the issue that companies need to be concerned about is 'when' not 'will' mandatory pay gap reporting come into effect in Ireland. By year three of its initiation, reporting will be mandatory for companies of all sizes in Ireland with larger companies only being required to report in the initial two years.
"Now is the time to start preparing," added Ms Boyce.
"The biggest challenge will be in gathering the data; getting it in the right form and from the correct people in your organisation," she added.
Stating that gender pay gap is not equal pay but the difference between what is earned on average by women and men based on the average gross hourly earnings of all paid employees, Ms Boyce added: "It's not just about men and women doing the same job or with the same experience of working patterns, it is designed to capture to what extent women are evenly represented across an organisation. It will highlight if there is a gender imbalance within an organisation," stated Ms Boyce.
Citing the causes of gender pay gap as gender stereotyping, work-life balance, and intentional or unintentional discrimination and bias, Ms Boyce stated that the purpose of mandatory reporting is to pick up on the differences in earnings between men and women at many levels – hourly, bonus and part-time pay levels, temporary contracts, and quartile pay bands.
Suggesting ways in which gender pay gaps within companies can be addressed, Ms Boyce advised attendees to set meaningful targets for their organisation size and type adding: "There is no one-size-fits-all approach. You need to zone in on your sector; assess whether it is a male or female-dominated industry; compare your organisation's figures with the national figure of other organisations within your sector and then decide on what action your company needs to take to tackle the gender pay gap."
Bank of Ireland has made great progress in this area since it first introduced an Inclusion and Diversity programme in 2017. Speaking at the event in Shannon, head of strategy development, Fergal Brosnan, stated that the bank is now very focused on driving an inclusive culture.
"This has been achieved through pilot testing a number of different programmes which led to the setting up of six distinct networks – multicultural, with pride, gender balance, parents and carers, intergenerational and accessibility – each focused on delivering real change in the organisation regarding the gender pay gap.
An advocate of training to stimulate movement within an organisation, he stated: "Train managers to understand gender pay gap, to foster job opportunities, fairness and equality."
Commenting on the benefit of the event, which was the first in a 'Thriving through Change' series of seminars being delivered by Shannon Chamber is association with Mazars, Shannon Chamber CEO Helen Downes said: "This first workshop has certainly set the scene for the level of detail we can expect in the series. This focus on gender pay gap has certainly exercised the minds of all attendees and given them an appreciation of the level of data they will need to collate to be able to deliver the types of report the incoming legislation will require. The strides that have been made by Bank of Ireland can be applied equally to smaller organisations, once tailored to a company's size and needs.
"We look forward to the next workshop on May 6, which will deal with the taxation of inbound employees to Ireland."
Commenting on the seminar series, Richard Maguire, lead partner in the Limerick office of Mazars said, "We are delighted to announce this series with the Chamber, a leading networking organisation in Shannon's business community. As an internationally integrated partnership specialising in audit, tax, consulting and financial advisory services, our presenters will provide insights on challenges and opportunities facing companies."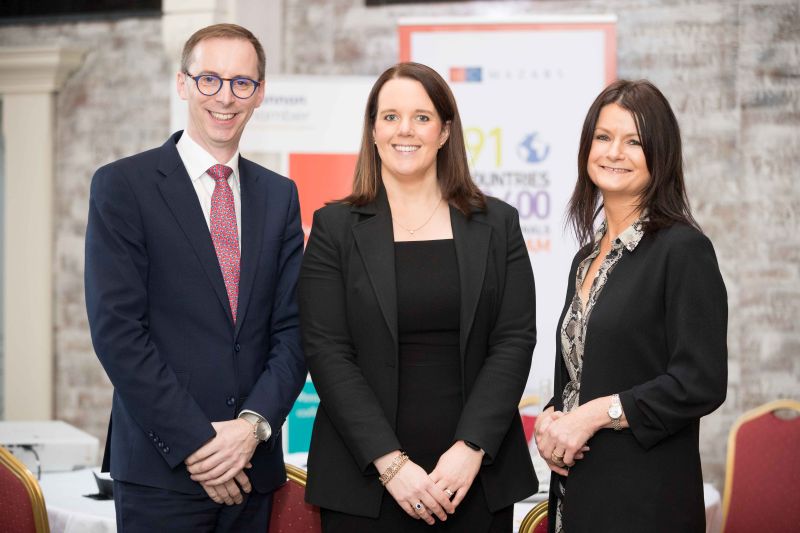 Richard Maguire, lead partner, Mazars Limerick, Sonya Boyce, director of HR Consulting, Mazars and Helen Downes, CEO, Shannon Chamber. Photo: Eamon Ward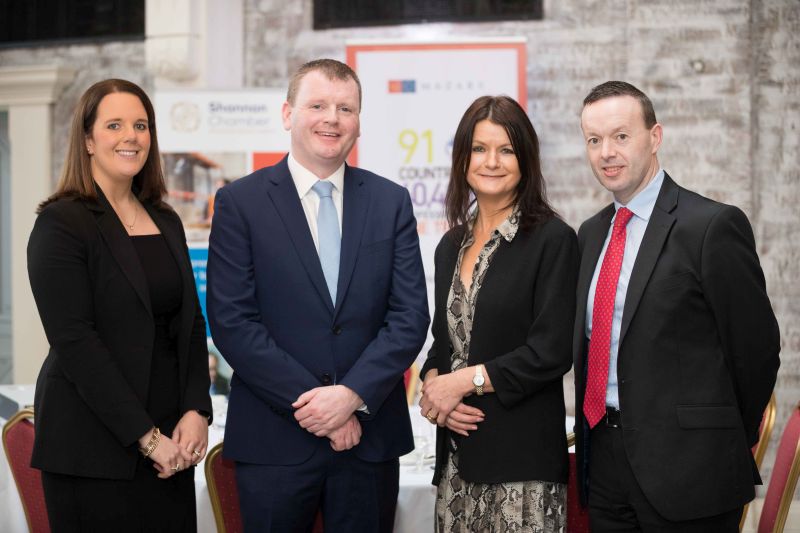 Sonya Boyce, director of HR Consulting, Mazars, Fergal Brosnan, head of strategy development, Bank of Ireland, Helen Downes, CEO, Shannon Chamber and Kieran Blake, commercial branch manager, Bank of Ireland Shannon. Photo: Eamon Ward.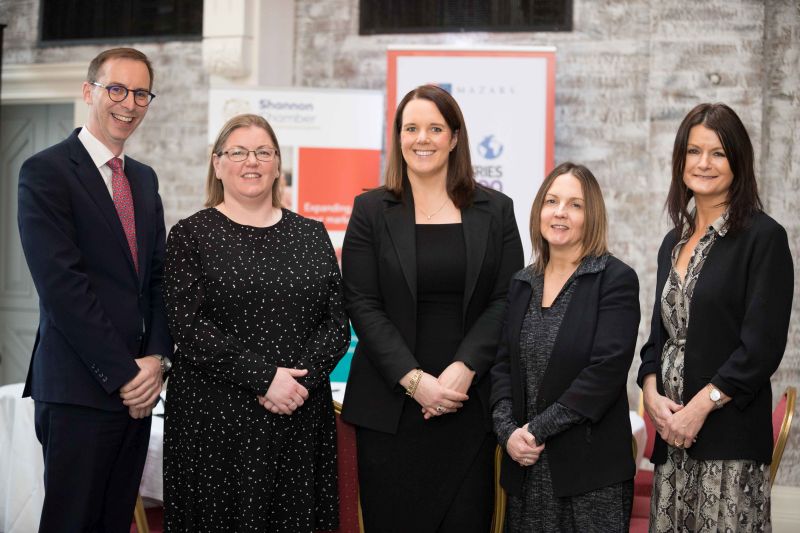 Helen Downes, CEO, Shannon Chamber pictured at the seminar with (from left): Richard Maguire, Margaret Ryan and Patrice Mulqueen, Mazars Limerick and; Sonya Boyce, director of HR Consulting, Mazars. Photo: Eamon Ward.