Shannon Airport is today delighted to announce that it will be main sponsor for the world's largest Irish traditional music festival – Fleadh Cheoil na hÉireann Inis 2016.
In what will be the biggest 'homecoming' of 2016, some 400,000, including thousands from abroad, will gather as traditional Irish music, song and dance returns to Clare.  The event also takes place on the 60th anniversary of the first Fleadh in Ennis, which is generally recognised as having played a pivotal role in the renaissance of Irish traditional culture.
The sponsorship was announced today at Shannon Airport, a company of the Shannon Group, in the company of three generations of the Droney family from Bellharbour in Clare, including 91 year old Chris Droney, who performed at that inaugural Ennis Fleadh 60 years ago. He was accompanied by his daughter Ann, a three times All-Ireland Concertina Champion and his granddaughter Ciara, a third generation concertina player.
Said Chris, "I won't say it's like yesterday but the Fleadh in '56 was an incredible event. It gave a massive shot in the arm to Irish music and culture and so much happened from there.  It was no coincidence that the Fleadh was held in Ennis as Clare has always been associated with traditional music.
"There certainly weren't many people flying in for the Fleadh, if any, 60 years ago and it shows how much the Fleadh and Clare has come on that so many will be flying in through our local airport for it. It's great that the airport has put its weight behind the Fleadh."
Dancing to the sweet concertina playing of the Droney family at the sponsorship announcement were the Keane sisters from Ballyalla in Ennis, Emilie (5), Zoe (8) and Aimee (15). Aimee came 5th in the World Dancing Championships earlier this year, while Zoe came second in the All –Scotland Championships.
Announcing the sponsorship, Rose Hynes, Chairman of Shannon Group said,  "This is a sponsorship Shannon Airport was proud to commit to.  There are two things that Clare is particularly synonymous with and that's incredible scenery and incredible culture. Ennis is, therefore, a perfect home for the Fleadh.  While it's hard to believe that it is 39 years since the Fleadh was in Clare, it will be more than worth the wait in August when it returns as it will be one great party."
Mary Considine, Acting CEO, Shannon Group said, "The hosting of Fleadh Cheoil na hÉireann in Ennis this year is a huge event for the county and the wider Mid-West region.  It will generate €38m for the local economy drawing 400,000 visitors for the event, including thousands from abroad.
"Clare has such a proud tradition with music, song and dance and visitors this year to Ennis can expect a Fleadh to remember.  Ennis will be a stadium of 400,000 people.  This is going to be one great homecoming and with Fleadh Cheoil na hÉireann we look forward to welcoming many of those people through our airport."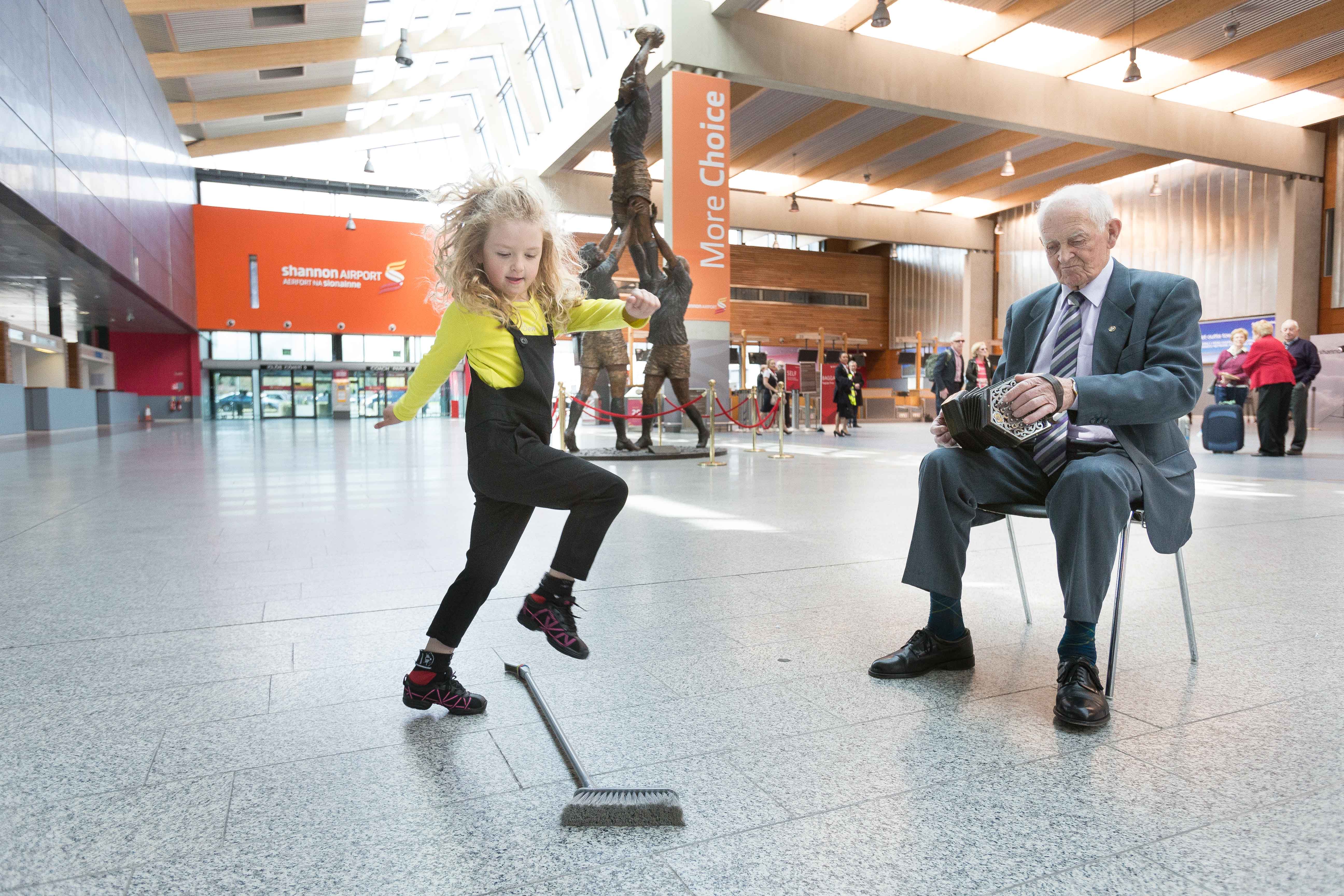 Said Mícheál Ó'Riabhaigh on behalf of the organising committee, "Fleadh Cheoil na hÉireann Inis 2016 and Shannon Group are a perfect synergy. Shannon Airport has been the key driver of the economy of the West of Ireland and beyond for over 70 years.  Legions every year return through the airport to participate in the Fleadh and have a great fondness for the airport so we are really pleased to have them as our lead sponsor.
"For Fleadh Cheoil na hÉireann Inis 2016, the sponsorship, in tandem with the support from Clare County Council, Comhaltas at national and local level, community organisations and the business community,  will provide us with the impetus to step up another gear and make August in Ennis the most enthralling All Ireland Fleadh ever. It will be a standout event of which the county and Shannon Airport can be justly proud."
The Fleadh will take place in Ennis but towns and villages across the county including Bunratty Castle and Folk Park will share in the celebration with sessions, day tours and organised events such as country dances and 'rambling houses'. The Fleadh will open on 14th August with the Pageant Seachtar Fear/Seacht Lá, originally written for the 50th Anniversary of the 1916 Rising by Bryan McMahon. This will be held in Cusack Park in Ennis.
ENDS
About Fleadh Cheoil na hÉireann Inis 2016
400, 000 visitors expected
6,000 competitors
10,000 session musicians
400 events
1,500 volunteers
€38m value to the economy
Largest festival of Irish traditional music in the world
Fleadh Cheoil na hÉireann Inis 2016 will be the third hosting of the Fleadh in Co. Clare/Ennis, the other occasions being 1956 and 1977
It's taking place in the year of a designated County of Culture for Clare
About Comhaltas Ceoltóirí Éireann
Comhaltas Ceoltóirí Éireann is a cultural movement with over 420 branches and 40,000 members worldwide. Branches in the UK, USA, Australia, Europe, Moscow, Tokyo & Buenos Aires. 20% of competitors for Fleadh Cheoil na hÉireann come from abroad.
Comhaltas is responsible also for a very wide range of cultural activities. Over 1,000 music, singing and dancing classes, organised and supported by Comhaltas take place each week throughout the country. The organisation has regional resource centres in Cashel, Ennis, Sligo, Mullingar, Dundalk, Dublin and Omagh offering support to members and promoting traditional music.
Comhaltas and the Irish Diaspora – Comhaltas is very strong and vibrant within the Irish Diaspora, particularly in North America and Britain. It has a significant presence in both regions and a structure that ensures very close links with Ireland. The inclusion of members in all Comhaltas activities, in particular the Fleadh structure, is a fundamental part of the Comhaltas philosophy.
Global Reach of Comhaltas – Comhaltas Groups have performed in Expo in China and Milan and have performed in many engagements abroad at the request of the Department of Foreign Affairs. Each year, a Comhaltas Tour Group performs at 10 locations in North America, while another Group performs at a series of concerts in Britain.