DesignWorks Clare
Following the successful Design Works Galway Programme in 2019 (see booklet below), Shannon Chamber is delighted to now announce a collaboration with the Local Enterprise Office (LEO) Clare to launch DesignWorks Clare. This initiative explores a new way of celebrating design through linking business, design and art in a project entitled DesignWorks Clare and is incorporated into the Creative Ireland Programme 2017-2022.
DesignWorks involves pairing 5 innovative designers with 5 companies – designer genres included in the Galway project included a scarf designer, an artist/painter, a ceramicist, a woodwork and furniture designer and a jewellery and hollowware designer.
The designers take inspiration from their paired company's design processes to create a unique piece of art. The finished piece of art can be made available to the company; however, there is no obligation on the company to purchase the finished piece. A celebration of all finished designs will form part of the project through the hosting of an exhibition event at the culmination of the project.
To launch this project in Clare, Shannon Chamber invites expressions of interest from member companies that would like to be considered for this project. The only requirement is that a representative from your company is available for 2 meetings with the designer and a follow-up call during the project should the need arise.
As this is a pilot project, we only require 5 companies; if we receive more that the required number of expressions of interest, a decision on which 5 companies to select will be based on those most suited to the artists chosen for the project. If this pilot programme is successful, we will consider running it again at a future date.
If your company would like to be considered for this project, all that is required at this stage is that you submit:
Your company's name

Your product (s)

Name of contact person for this project
If your company would like to be considered for this project, please forward details as requested about to hdownes@shannonchamber.ie
Shannon Chamber is delighted to partner with LEO Clare to deliver this first-of-its-kind initiative in Co Clare.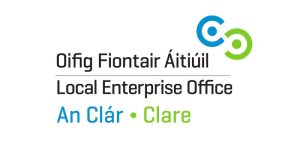 Reimagining Design A5 Booklet 31766Proof (2)