Medieval banquets have long been considered a tourism product, suited only to overseas visitors, and a little twee for Irish people. To correct this myth, Shannon Chamber linked up with Shannon Heritage to host a special banquet for its members, to showcase the suitability of the banquet as a personal or corporate evening out.
Attended by almost 120 business people, the banquet was not only a resounding success with many attendees promising to return in a personal capacity and also pledging to use the castle and the banquet for corporate entertaining.
Shannon Chamber's chief executive Helen Downes was fulsome in her praise for the standard of entertainment and food: "This is the first time we have sent an open invitation to our membership to avail of a night at the banquet and we were delighted with the response, not just to attend but by the feedback.
"Most attendees had never been to a banquet before and were totally in awe of the entertainers' musical skills. The entertainers are truly gifted. It really is a unique product, and great value as a night out with family, friends or business associates. We don't sing its praises often enough and the fact that it has been running now for over 50 years is simply amazing.
"Atlantic Aviation Group's managing director Patrick Jordon was chosen as the Earl to oversee the banquet and assumed his temporary duties with gusto, approving the food and ordering the naughty prisoner to entertain the audience as punishment for 'trifling with the ladies'.
"I guess being Earl was a little less taxing than running a company with over 200 employees, but equally as invigorating!," added Ms Downes.
Attendees at this special Shannon Chamber banquet will now act as ambassadors for Shannon Heritage, encouraging more locally based people to visit the many visitor attractions in Shannon Heritage's suite of exceptional products – Bunratty Castle and Folk Park, Knappogue Castle, Dunguaire, King John's Castle and Malahide Castle.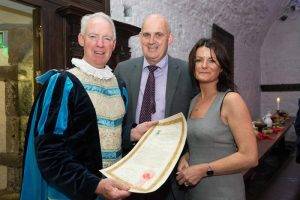 Helen Downes, CEO Shannon Chamber joins Shannon Castle Banquet butler, Jim Carroll, to present Atlantic Aviation Group's Patrick Jordon with a scroll of honour for his starring role as Earl at the Shannon Chamber banquet. Photo: Eamon Ward.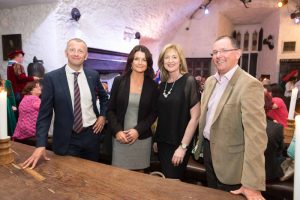 Helen Downes, chief executive, Shannon Chamber pictured at Bunratty Castle banquet with (from left): Brian Nevin, Marie Slattery and John Ruddle, Shannon Heritage. Photo: Eamon Ward.