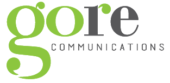 We provide communications advice and solutions based on over 20 years experience in the fields of marketing, public relations and internal communications.
We drill down to your business needs, distil the core messages you need to communicate to the market, your customers and your employees and devise creative, results-driven campaigns.
Services
Core services include: public relations, internal communications, marketing communications, digital marketing and event management.