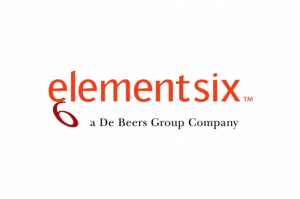 Element Six is a synthetic diamond supermaterials company. Element Six is a member of the De Beers Group of Companies, its majority shareholder. Element Six is a global leader in the design, development and production of synthetic diamond supermaterials, and operates worldwide with its head office registered in Luxembourg, and primary manufacturing facilities in China, Germany, Ireland, Sweden, South Africa, US and the UK.
For over 50 years, the core business has remained the synthesis and processing of synthetic diamond supermaterials, a term which includes manufactured synthetic diamond and other supermaterials such as cubic boron nitride (CBN), tungsten carbide and silicon cemented diamond. While synthetic diamond is well known as the planet's hardest known material, it has many extreme properties and is one of the most useful and remarkable materials. It is from carbon therefore, the sixth element of the periodic table, that the business takes its name: Element Six.
Element Six's mission is to deliver extreme performance for end users through innovative supermaterial solutions. Element Six focuses on close strategic development partnerships with customers to deliver customised, innovative high performance products. The business consistently strives to provide excellent customer service and continuous productivity enhancement.