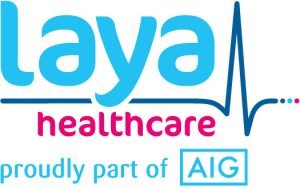 Originally established over 19 years ago as BUPA Ireland Ltd, laya healthcare was launched in May 2012 and is the second largest provider of private health insurance in Ireland with over half a million members. Laya healthcare offers some of the most innovative benefits in the Irish health insurance market along with life insurance (layalife.ie) and travel insurance (layatravelinsurance.ie). Its brand promise, Looking After You Always, represents laya healthcare's member-centric approach, which is fundamental to its vision and values.
In 2015 laya healthcare proudly became part of AIG, one of the strongest insurance organisations in the world with over 90 million customers in 100 countries and jurisdictions. With its experienced team and innovative insurance solutions, along with AIG's financial backing, global expertise and long term commitment to Ireland, laya healthcare expects to go from strength to strength, widening its offering and bringing value and innovation to Ireland's insurance market.
Laya healthcare's broad range of corporate healthcare schemes, Employee Assistance Programme and Health & Wellness programmes are designed to help employers achieve their goal – whether it's reducing absenteeism, increasing productivity, or maximising employee engagement. Innovation is at the heart of  what laya healthcare does and benefits like HeartBeat and CareOnCall bring to life laya healthcare's commitment to  Look After You Always.
Health Insurance provided by Elips Insurance Limited trading as Laya Healthcare. Life Insurance provided by iptiQ Life SA. Travel Insurance provided by ACE European Group Ltd. Laya Healthcare Limited trading as Laya Healthcare and Laya Life is regulated by the Central Bank of Ireland.