Description
Safeguarding lives while permitting essential services to operate has been the prime consideration of Governments and health services throughout the world in their drive to control the spread of the COVID-19, but at what cost to global, national and regional economies?
What impact, short, medium and long term, does the level of lockdown which has had to be enforced have on a country's employment levels, GDP and, on specific sectors and regions?
When is the right time to try to reopen an economy and how? What needs to be prioritised?
Some answers to the above have been provided in a paper written by a team of experts from leading global consultancy McKinsey & Company, a trusted advisor to many of the world's most influential businesses and institutions. Click HERE to read full article.
Shannon Chamber is delighted to have Sorcha Mckenna, managing partner for McKinsey's & Company's Dublin office speak at this Webinar, in which she will do a more in-depth analysis of the issues facing economies, including Ireland, and the scenarios they need to assess when deciding how, when and to what extent they can look to restart their economies and get people back to work faster to safeguard their livelihoods.
Presenter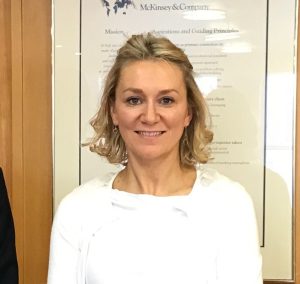 Sorcha Mckenna is the managing partner for McKinsey's Dublin Office. During her time at McKinsey, Sorcha has worked primarily in healthcare and consumer sectors. Her work has focused on strategy development the implementation of organisational change at the front line. She led the Integrated Care team for EMEA for 5 years and was the lead for the Organisation in Consumer practice until she took up leadership of the Dublin Office 4 years ago. Since then her work has focused largely on Irish clients, and she is now working increasingly on the strategies to address climate change both in Ireland and globally. Prior to joining McKinsey Sorcha studied for PhD in Molecular Microbiology in Trinity College Dublin.
This webinar is Free of charge.
Please book online to secure your place!