Description
Ron draws from his 20 years of experience building and scaling companies, sharing his personal story about transforming disgruntled employees into passionate stakeholders in one of the toughest industries. In this high energy talk, Ron shares his expertise on leading transformation in an organization with stories from the front line paired with tangible takeaways tailored to the audience and applicable to all people leaders.
Through his podcast Ron has gathered extra lessons and stories from the top Heads of People in the corporate world and brightest minds in HR and Culture to give you the playbook he wished he had 15 years ago, and key tactics companies have used to navigate the unique challenges of today.
Examples of takeaways:
– Culture-driven recruiting, screening and hiring processes
– Systems to support flattening the organization
– How to build relationships and trust
– 3-step process to prepare for a tough conversation
– How to align and motivate your team
– Strategies to effectively track KPI and long-term projects
– Decision making process to empower your front line staff and leaders
– Onboarding tactics that build a sense of belonging and purpose for any size company
Length: up to 45min-1h + Q&A
Meet the Speaker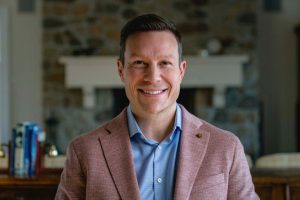 Ron Lovett is a Canadian entrepreneur, globally sought-after professional speaker and thought leader, host of an award-winning podcast and best-selling author of " Scaling Culture" and "Outrageous Empowerment".
Ron successfully scaled his Halifax-based guard security company to over 3,500 staff across Canada and sold to the largest provider in the US at a 24X multiple. His leadership hallmarks of relentless learning, disrupting stale industries, fast action, and transforming staff into passionate stakeholders – inspired his first book "Outrageous
Empowerment" in 2018.
Now, Ron focuses on his rapidly-expanding multi-family residential portfolio through VIDA Living, whose purpose is to revolutionize affordable communities across North America, VIDA currently has 300 million of assets under management and plans to reach 10,000 units by 2027.
As an expert in organizational culture, Ron hosts an award-winning podcast, released Scaling Culture Masterclass series and wrote his 2nd book "Scaling Culture: How to Build and Sustain a Resilient, High-Performing Organization ". He also helps clients solve people and culture challenges directly through his other company Connolly Owens.
Over the years Ron has been recognized with many awards for the success of Source Security & Investigations and his leadership within the region, including: BDC Young Entrepreneur Award, (x5) Atlantic Business Magazine's Top 50 CEO Award, Junior Chamber International Outstanding Young Person Award and the Remy Martin Bold Five under 35.
This webinar is Free of Charge, but online booking is essential.
We will share the Zoom link to join webinar a day before the event or simply click on the link below to join.
Join Zoom Meeting
https://us02web.zoom.us/j/89598750921?pwd=dkc0L0N2M2pucmZmTnZjSG9jUmZRZz09
Meeting ID: 895 9875 0921
Passcode: 810873