Description
Is resilience a genetic trait or can it be learned?
Have you faced difficult situations in life that you have handled adequality or do you wish you had taken a different approach?
Has adversity made you a stronger person?
These are but some of the questions you may well be asking yourself after this event.
Our keynote speaker, Former Irish Navy Ships Captain, Marie Gleeson, is no stranger to adversity but has found the resilience to not just overcome the challenges she has met in life but to become a leader in her field and an inspiration to many.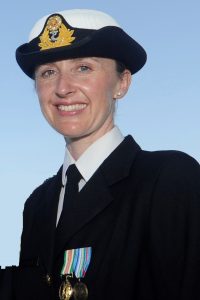 Marie honed her leadership style over the course of a twenty-year military career operating primarily in the harsh and hostile Atlantic Ocean. Her journey from naval cadet to Captain of the LE AOIFE has given her unique insight into people and how to maximise performance even in the most challenging of circumstances.
She has experienced the highs of international drug busts to the tragedy of the loss of a colleague overboard at sea. Marie was one of the first female officers in the Irish navy and this gives her a unique insight into the reality of leading in a "mans" world.
Marie is an honest and engaging speaker who brings her experience to life in her keynotes. She discusses the reality of decision making in high pressure and time critical operational environments and translates this into key leadership lessons for the business world.
The cornerstone of a military career is that service comes before self and this was the reality for Marie in her career until life threw a curveball of magnitude in her path. Marie's personal story highlights the importance of support and resilience in the face of adversity.
Marie is an insightful, humorous and passionate speaker who combines her professional and personal experience to tailor her keynotes to maximum effect for her audience.
Her presentations have been described as 'captivating, insightful and excellent, delivered in a relaxed and engaging style, and… so human'.
There will be a lesson for everyone in the audience at this lunchtime event.
Don't miss out. Book early to secure your place.
This event is Free of Charge, but please book online to secure your place!
Registration and light lunch is from 12.30pm