Description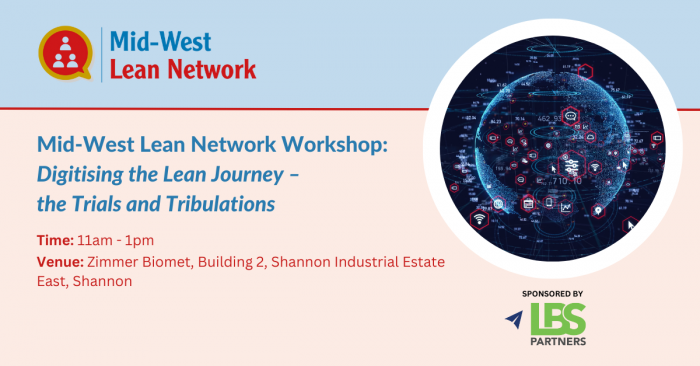 Digital transformation is impacting business at many levels. Some companies are well advanced in using data to drive their business, yet many more are fearful of entering this space.
Which category is your company in?
Whether you are well advanced on your digitisation journey, adapting digital but meeting some pitfalls, or wondering how to start, this event is for you.
Our presenters – Philip Rossiter, Operational Excellence Manager at Coca-Cola and Seani Devlin, Operational Excellence Program Manager, Abbvie – will share their organisation's approach and journey on digital transformation, harnessing the benefits to drive sustainable business results. They will explain why digital transformation can be hugely beneficial but at times daunting, and how to avoid the pitfall of languishing in digital purgatory.
Through sharing their distinctly different but equally successful approaches to lean digitisation, the outcome from this event is that attendees will leave knowing how to digitise their lean journey to transform their company's performance.
Registration from 11.00 am, workshop starts at 11.30 am
This session is Free of Charge, but registrations online is essential.
The Mid-West Lean Network: the second largest regional lean network in Ireland, after Waterford Institute of Technology's Lean Enterprise Excellence Group, launched in November, was set up to strengthen and increase the existing culture of lean within the Shannon and the wider Mid-West region. Its aim is to enable each industry to broaden and strengthen their competitiveness through knowledge sharing and bench-marking against each other and different industries.