Description
The Mid-West Lean Network: the second largest regional lean network in Ireland, after Waterford Institute of Technology's Lean Enterprise Excellence Group, launched in November, was set up to strengthen and increase the existing culture of lean within the Shannon and the wider Mid-West region. Its aim is to enable each industry to broaden and strengthen their competitiveness through knowledge sharing and bench-marking against each other and different industries.
Registration from 8.00 am
Workshop #10 will take place in Roche, Clare Castle and will focus on: Creating an Environment for Learning; Lean into Our Future (LIOF)
During the workshop presenters from the Award winning team will provide an overview of the following points:
Visual Management

Problem Solving

Coaching (Kata Coaching)

Standard work
Tour of facility will be available after the presentations and Q & A session. Lunch will be provided after tour.
Presenters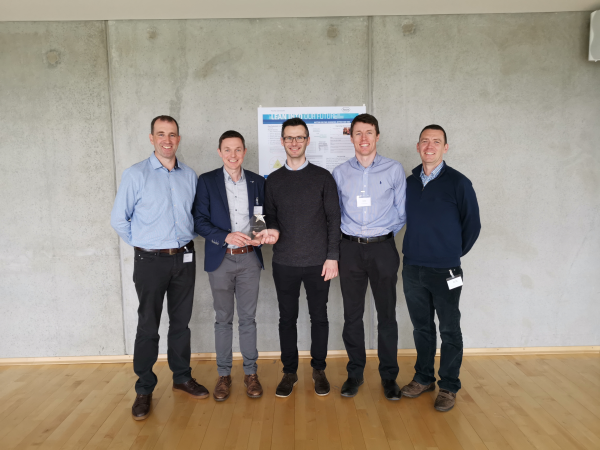 Paddy Jones, Operational Excellence Lead, Roche Ireland Ltd.
Paddy is the programme lead on the Lean into Our Future programme. Paddy has a background in the Medical Device and Pharmaceutical industries working in process engineering, manufacturing and continuous improvement since graduating from the University of Limerick in 2004. He joined Roche in in 2015 having previously worked as Lean Six Sigma Lead in MSD Swords. Paddy qualified as a Lean Six Sigma Black Belt in 2012 and is currently in his final year of the MSc Lean Sigma Systems (Master Black Belt) in the University of Limerick.
Sean McMahon, Head of Maintenance, Roche Ireland Ltd.
Sean graduated with an Honours Degree in Mechanical Engineering from UL in 1996 and started his professional career in Boston Scientific in Galway working in a variety of process engineering roles. In 2000 Sean joined SMC Pneumatics as a Sales Engineer and in 2004 joined Molex Ireland Ltd in Shannon as a Design Engineer. During his time in Molex he qualified as a Lean Six Sigma Black Belt in 2008 and worked fulltime in this role up to 2012. At this point he joined Roche as an OPEX Project Leader and in 2015 moved into his current role. He recently received a Diploma in Management from DIT. Sean is the project lead on the Leader Standard Work on the Lean into Our Future Programme.
Eamon Noonan, Head of Safety, Health and Environment, Roche Ireland Ltd.
Eamon joined Roche as a Graduate Chemical Engineer in 2004. Having worked in various roles in Manufacturing and Technical Support he moved into his current role in 2016. Eamon also holds a Diploma in Management (University of Limerick), a Diploma in Health and Safety (DIT) and is currently completing his Black Belt certification in the University of Limerick. Eamon is the project lead on the KATA Coaching and Skillful Dialogue Workstream in Roche's Lean into Our Future Programme.
Brian Aherne, Head of Automation, Process and Project Engineering
Brian qualified as a Chemical Engineer in 2009 and joined Roche from MSD Ballydine in 2014. He has worked in various Process Engineering Support, Design and Commissioning roles. Brian was appointed Continuous Improvement Specialist in November 2016 and since August 2017 is in his current role. Brian is a certified Lean Six Sigma Green Belt, has a Diploma in Project Management and is currently completing his Black Belt certification in the University of Limerick. Brian is the project lead on the A3 Problem Solving workstream
Billy O'Shea, Director of Operational Excellence, Engineering & SHE
Billy is a qualified Master Black belt and has directed the Operational Excellence Programme at Roche Ireland since 2009. During this period he has implemented many successful business-critical projects providing long-term value for the business. Billy has deployed different but complementary approaches to continuous improvement creating a continuous improvement culture in Roche Ireland. In his role as EH&S Director Billy has led initiatives to achieve third party accreditation to: ISO 50001 Energy management systems; ISO 45001 Occupational Health and Safety and ISO 14001 Environmental management systems. Billy has successfully applied Lean thinking to a Portfolio of Engineering projects and Maintenance operations achieving significant success. With over 20 years' experience in systems-thinking he excels at connecting the presenting effects or symptoms with the deep underlying system and then leading changes that result in lasting improvement.
Richie Butler, Project Manager – Decontamination
Richie is a UCD Chemical Engineering Graduate (2001) with significant experience in the Pharmaceutical, Water Treatment and Process Design sectors joining Roche in 2014 as a Changeover Specialist. His previous companies include BCD Engineering in Charleville, Pfizer in Newbridge and Filtration Technology in Auckland, NZ. Richie is a project driven engineer and qualified as a Green belt in 2016, followed by a Black belt in 2018 and is currently studying for an MSc Lean Sigma Systems (Master Black Belt) due for graduation in January 2020. Richie is the project lead on the Visual Management element of the Lean in Our Future Program.
Please book online to secure your place