Description
Shannon Chamber is delighted that Simon Coveney, TD, Minister for Enterprise, Trade and Employment has accepted our invitation to address our members and guests at this luncheon event.
Leading a Ministry that supports, funds and drives the delivery of enterprise development and skills' development programmes, that addresses issues that impact business or sectors across all areas of enterprise activity, and who recently announced plans to develop a National Industrial Strategy for Offshore Wind, this promises to be an informative and interactive luncheon event.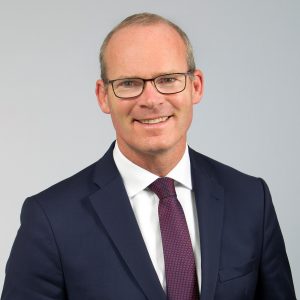 Simon Coveney TD is the Minister for Enterprise, Trade and Employment. He is also the Deputy Leader of Fine Gael. Prior to December 2022, Simon was Minister for Foreign Affairs and Minister for Defence. He previously served as Tánaiste from November 30th, 2017 to June 27th, 2020, and Minister for Housing, Planning and Local Government as well as Minister for Agriculture, Food and the Marine. For the 6-month period to the end of June 2013, Simon chaired the EU Council of Agriculture & Fisheries Ministers where he was at the forefront regarding EU efforts in respect of Common Agriculture (CAP) as well as Common Fisheries (CFP) Policy reforms. Under his chairmanship both dossiers were progressed significantly, with a reform package for CFP agreed in May 2013 and a reform package for CAP agreed at the end of the Irish Presidency in July. The Defence portfolio was added to his brief on July 11, 2014. He represents the Cork South Central constituency.
Simon was first elected to the Dáil in 1998 as one of Fine Gael's youngest TDs and held Shadow Ministries in the areas of Drugs and Youth Affairs, Communications, Marine and Natural Resources, and Transport. Simon chaired the Fine Gael Policy Development Committee prior to the 2011 General Election.
Simon was elected to the European Parliament in 2004 and was a member of the EPP-ED group.
This is a great opportunity to entertain clients and colleagues at corporate tables. Individual places are also available.
Price: Members €79.45 / Non-Members €102.15 (incl. VAT per ticket)
Individuals bookings can be placed and tables of 8, 10 or 12 can be reserved
Schedule:
Registration & Networking from 12.30p.m.
Lunch from 1p.m. to 2.30p.m.
Includes Q & A
Booking: Please book online to secure your place. For more information or bulk bookings, email Lijana at lkizaite@shannonchamber.ie or call 061 475 854
If your online booking is unsuccessful, please try below actions:
Clear your browsing data on your current browser and try to place your booking again or
Try to use different browser like Microsoft Edge, Chrome, FireFox, etc.