Description
In late 2019, the Minister for Business, Enterprise and Innovation Heather Humphreys TD, announced that €4.7 million had been approved for the development of a Future Mobility Campus and test bed for connected and autonomous vehicles (CAV) at Shannon under the third call of the Regional Enterprise Development Fund (REDF).
This transformative project for Ireland will be delivered by Future Mobility Campus (FMCI), involving partners from Ireland's leading automotive and technology organisations across SMEs, MNCs, RPOs and Institutes of Technology with support from local authorities and state agencies, and also involving Shannon Chamber.
FMCI is setting out to create and deliver future mobility testbed facilities for stimulating research, development and innovation in the area of Autonomous Connected Electric Shared Vehicles (ACES), including Connected and Autonomous Vehicles (CAV) in Ireland.
The testbed, which will be located in the Limerick-Shannon metropolitan area at Shannon Free Zone, and associated programmes will substantially support autonomous, connected and electric vehicle and shared mobility research, benefitting development and innovation not only for the automotive industry but also for telecommunications, computing, artificial intelligence and much more.
Shannon Chamber is delighted to host this Webinar, led by FMCI Director Russell Vickers, who will share his plans for creating one of the most expansive real-world testbeds globally for Future Mobility.
Presenter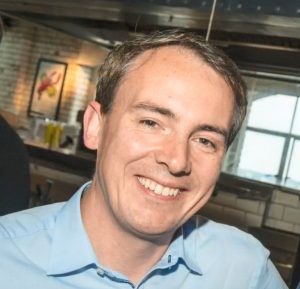 Russell Vickers is an Engineering Manager at Jaguar Land Rover, where he leads a team focusing on the new revenue opportunities that are enabled as vehicles move towards an increasing automated and connected future. Based in Shannon, he is also Director of the Future Mobility Ireland Campus (FMCI), which was recently funded by the Government of Ireland. The FMCI will create a testbed for connected and automated technology development, leveraging the technology companies based in Ireland and beyond.
His background is in ASIC Design and Communications, and his previous companies include Parthus Technologies, Texas Instruments, Ericsson and Intel.
Russell is a graduate of D.I.T Kevin St. and obtained a BSc in Electronic Engineering in 1998.
This webinar is free of charge.
Please book online to secure your place.