Description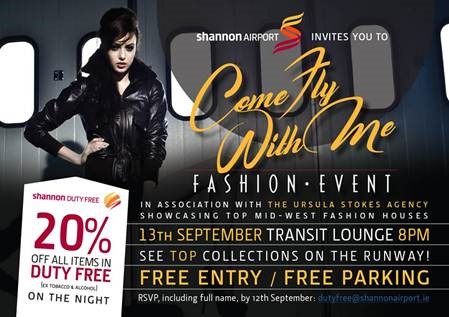 Shannon Chamber in conjunction with Shannon Duty Free are inviting it's members to this special Fashion Event on Tuesday, 13th August.
The event will start at 8pm.
This event is open to all employees of member companies of the Chamber. To check if your company is a member, click here: https://www.shannonchamber.ie/members/
Each person attending will have to book in individually. RSVP, including full name, by 12th September: dutyfree@shannonairport.ie
Free Parking is available for all guests in the short-term car park. 
Please ensure that you bring photo ID with you. As you will be passing through security, please also ensure that you do not have any sharp items, liquids, pastes or gels in your handbags or pockets.

On arrival at the Terminal Building, please make your way to level 1. We will meet you there and escort you through security to the event.

Shannon Duty Free is giving Shannon Chamber Members 20% off for one night only.