Description
Gossip is good for your brand!
Have you ever wondered why the Irish have been so successful worldwide in such diverse businesses? Perhaps it's because we're a nation of talkers and we like social interaction: we like people. We are naturally curious, even a bit nosy. It works both socially and professionally. Introduce digital tools to this mix and suddenly we have an instant global platform to talk the talk as only we can. But why have so many Irish companies gone quiet and continued to ignore this opportunity?
This event will explore the relevance of branding and its relationship with the consumer.
Asking the question 'Are your customers listening and do they really care?', our keynote speaker, Ray O'Connor, founder and creative strategist with Proactive design and marketing, will challenge the major principles of branding as we know them.
Attending this event will empower you to explore a back-to-basics approach to creating a meaningful business community through digital communications
Main Presenter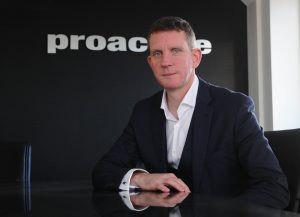 Ray has worked with the following international brands: TE Connectivity, Medtronic, Boston Scientific, Admedes Schuessler, Creganna Medical and Mergon International, as well as a host of Irish companies: NUIG, GMIT, LIT, Atlantic Aviation Group, Dromone Engineering, Tekelek, Decare Dental Insurance and many more. Ray is also an avid ultra runner and founder of the award-winning online running community website RunIreland.com. Ray is a regular guest speaker on wellness and personal motivation and often combines his vast experience in business – specifically branding – with his personal challenges as an ultra runner to demonstrate how important emotion is when achieving personal and business objectives.
Registration, light refreshments and networking from 7.45 am
Member fee €20; Non-Member fee €30
In collaboration with

Events Cancellation Policy: Cancellations will be accepted up to 72hrs before each event. Events which are cancelled within 72 hours of scheduled date shall incur a cancellation fee equal to 50% of the agreed cost. Registrants who fail to attend the event will be charged 100% of the full fee. This policy applies to all events. Please quote Purchase Order number if required on invoice.