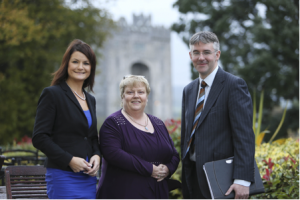 "While the government's commitment to reducing personal taxes will improve consumer confidence and in turn contribute to economic growth, there appears to be little else in the budget to encourage job creating entrepreneurs," said Shannon Chamber's chief executive Helen Downes in reaction to Budget 2015 announced last week.
Introducing the Chamber's annual post budget briefing, hosted by Grant Thornton, Ms Downes said: "SMEs and entrepreneurs create employment and we must do more to support them if we want to continue to reduce our unemployment numbers. We anticipated more measures than were delivered in this budget to support that goal. Capital taxes remain too high and a more balanced and urgent focus on the job creating engine of SMEs is required.
Ms Downes described Budget 2015 as a well-crafted political budget, with positives and negatives.
"It focused on improving the circumstances of the squeezed middle class; addressed the uncertainty around the Double Irish, which was timely and decisive; gave certainty to global multinationals and highlighted the competitiveness of our 12.5% corporation tax rate; but it seemed unfair on self-employed individuals with income over €100,000, placing increased burden on them."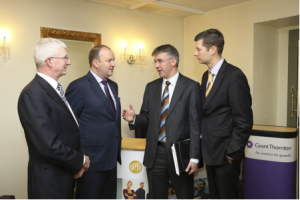 Reflecting on Shannon Chamber's expectations of Budget 2015, particularly with regard to employers' PRSI rates and the changes to the Employment Incentive Scheme (EII) and the Seed Capital Scheme (SCS), Ms Downes welcomed the higher cap of €5million annually for the EII scheme and the fact that the SCS will be re-launched later this year.
"The retention of the 9% VAT rate is good news for business and we were also happy to see the abolition of the 80% windfall tax on rezoned land which has the potential to create both jobs and housing. We are delighted that Capital Gains Tax was not reduced and we will continue to link with Chambers Ireland in the run up to the Finance Bill to get the best possible measures for small business, "added Ms Downes.
Photo 1 Captions
Helen Downes, chief executive, Shannon Chamber with Theresa O'Gorman and Eamonn Murphy, directors, Grant Thornton, keynote speakers at Shannon Chamber's Budget 2015 briefing. Photo: Eamon Ward.
Photo 2 Captions
Pictured at Shannon Chamber's Budget 2015 breakfast briefing (from left): Niall O'Dwyer, Grant Thornton; Andy O'Neill, Choice Hotel Group; Eamonn Murphy, Grant Thornton and Ivan Tuohy, Clarion Hotel, Limerick. Photo: Eamon Ward.
Release issued by Dympna O'Callaghan, molly d marketing
T: 061 369898
Mbl: 086 2371508